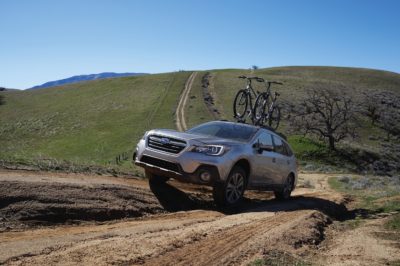 When a co-worker heard I was reviewing the 2018 Subaru Outback, he said, "I hate those 'gosh-garned' Subarus!" I winced and couldn't believe my ears, so I asked him why.
"Because I was out East in a snow storm last year," he replied. "I could hardly see where I was going, snow was blowing everywhere, and those Subarus kept whizzing past in the left lane as if it was nothing! They're freaking snowmobiles!"
Indeed. I had the same experience on an Indiana Interstate late one night over twenty years ago when two Subaru SVX luxury coupes blew by my Geo Spectrum during a snowstorm so severe it was drifting lanes closed. Harboring the luxury of those coupes plus the capability of today's Outback is the 2018 Outback Touring.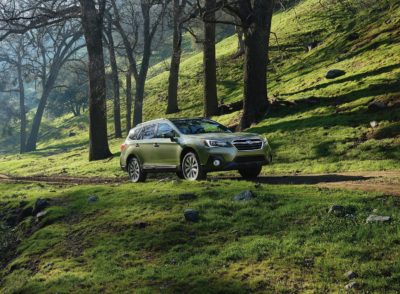 The top-end Touring edition is distinguished visually by a slimmer roof rack, 18" alloy wheels, chrome-accented door handles, and chrome lower body trim. While it doesn't have the roof rack with integrated cross rails, it does look a little more upscale. Adaptive LED headlamps put a shine on it. Like other 2018 Outbacks, the Touring has a sportier grille with dark slats. Gray lower body cladding repels rocks and sticks should you go off-road–and given 8.7" of ground clearance, you certainly can.
Most owners will choose the Touring for its posh interior. Exclusive Java brown leather with tan stitching upholsters the seats and doors while woodgrain dresses the dash. Special floor mats complete the look. For 2018, the infotainment screen was simplified, with Apple CarPlay and Android Auto added. Dual-zone automatic climate controls now have temperature read-outs in the knobs. Harman Kardon audio, power sunroof, heated seats front/rear, and a heated steering wheel add comfort for weary travelers. Little details like rear seat USB ports, rotating headrests, extendable sunvisors, and blue ambient lighting matter.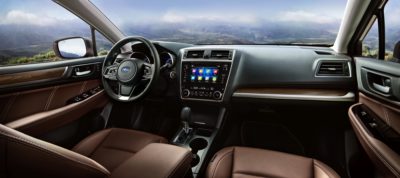 So does safety, and the Outback Touring is stocked with all of the latest tech. That includes Subaru's twin-camera EyeSight system that handles the lane departure warning, lane keep assist, forward collision mitigation, and adaptive cruise control systems. There's also a standard rear camera and blind spot sensors. The Outback routinely gets high honors in independent crash tests. For serious off-roaders there's X-Mode, which modulates the powertrain and hill descent control to keep a pre-set speed going downhill without brake or throttle intervention by the driver.
If you want to go fast, choose the 256 horsepower 3.6-liter flat-six engine. But, if you want adequate power with excellent fuel economy, check the 175 horsepower 2.5-liter flat-four and its 25/32 mpg city/highway. Both engines connect to the standard torque-vectoring all-wheel-drive system through a continuously variable automatic transmission. Compared to last year, the transmission shifts smoother and is noticeably quieter. Finally, I could barely notice there was a CVT instead of traditional gears. Nice.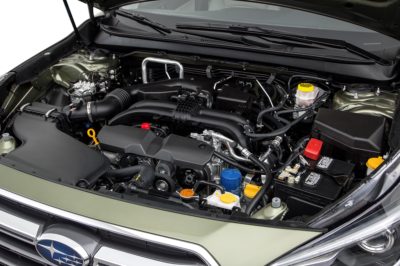 Typical Subaru owners will drive the wheels off of their Outbacks. My family has already made round-trips from Indianapolis, Indiana to Memphis, Tennessee, and Dallas, Texas. Seats are supportive, the car achieves excellent fuel economy, there's plenty of rear legroom, and given the roomy cargo area, my four-year-old daughter can bring everything she owns (and she owns a lot). And there's something about knowing that, no matter what weather or roads come your way, the Outback can handle it.
The Outback is priced like a compact crossover but has the space of a mid-size crossover, while harboring enough capability to challenge fairly serious off-roaders. Go online and search "Outback + Off-Road" or "Outback + Snow" to be impressed. It's surprisingly affordable with a base price of $25,895 or $36,490 fully loaded in Touring trim–an ideal family truckster for this queen and his family. All that, and it's built in Indiana by an environmentally responsible, gay-friendly automaker. Gosh-darned Subaru!
Storm Forward!
View Casey's video of the Outback above, then follow him on YouTube and Twitter: @AutoCasey.
2018 Subaru Outback Touring
Five-passenger, AWD Crossover
Powertrain: 175hp 2.5-liter H4, CVT automatic transmission
Wheels f/r: 18"/18" alloy
Brakes f/r: disc/disc
Must-have features: Comfort, Capability
Towing: 2,700 lbs
Fuel economy: 25/32 mpg city/hwy
Assembly: Lafayette, IN
Base/as-tested price: $25,895/36,490