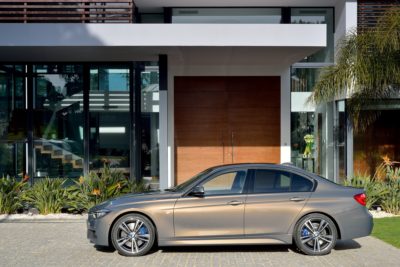 When BMW first started talking about building "Ultimate Driving Machines", they weren't talking about three-row crossovers or exuberantly large luxury sedans. No, they were talking about cars like the 3-Series sedans–cars that could collect three friends, but remain loyal buddies for weekend backroad romps. The latest iteration ranges from efficient to obscene, but I'd make the one in the middle mine. Check the 340i.
Taking a look at the sedan, it does seem like a familiar buddy. BMW's iconic twin-kidney grille, flanked by quad LED headlamps and underlined by LED foglamps, flow into a long bulging hood designed to meet pedestrian crash standards. Lower body cladding hints at speed, but also connects it stylistically to the i8 plug-in. All that couture hunkers over 18" alloy wheels with a planted stance. The Hoffmeister kink in the rear windowline is often copied, but best executed by BMW.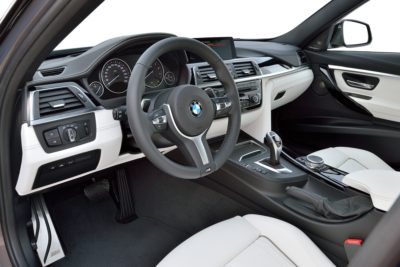 As an upper-level 3-Series with the M Sport package, the 340i is lavishly equipped. Seats are upholstered in BMW's SensaTec faux leather, but will wear well and feel expensive. Extendable lower cushions and deep bolsters fit you like a tailor stitched you in. Once there, crank up the Harman Kardon audio system, power back the moonroof, and adjust the dual-zone automatic climate control to your liking. The thick, three-spoke, leather-wrapped steering wheel and clear analog gauges demand to be gripped and seen!
iDrive is still one of the most confusing infotainment systems in any car, but it's better than it once was. Apple CarPlay compatibility simplifies it a smidge. More annoying, I have no idea why BMW thinks the stereo should keep blaring even after the door has opened (and closed, before locking it). I can assure you my neighbors have no desire to hear Elvis Presley booming out as if he's still in residency at the Las Vegas Hilton (it's also a bit embarrassing when I'm rocking out to Susan Boyle).
While the 340i doesn't tatt an M3 badge on its ass, it is still a bit mischievous. Planted under the bulging hood is a 3.0-liter twin-turbo inline six-cylinder engine that dishes 320 horsepower and 330 lb.-ft. of torque to the rear wheels through a six-speed manual transmission. Slap the pedal to see 0-60 mph in 4.9 seconds on the way to a 130 mph top speed. That's no longer supercar fast, but it's plenty enough to get your giggles. Toss in auto stop/start, which pauses the engine at rest, and you'll enjoy 19/29 mpg city/highway.
On-road, the 340i becomes more familiar. Firm suspension and quick steering encourage you to dominate two-lane backroads, while the overall solid feel of the car adds confidence for very long drives. The low profile tires do little to smooth out rough roads, but the sophisticated suspension keeps the ride from becoming overly harsh. And, drivers can dial it the way they like it with Eco, Comfort, and Sport modes to adjust the steering firmness and powertrain responsiveness.
They're cars you look at across the mall parking lot, or in your driveway, and make you think, "Yeah, that's my car, my buddy, and I can't wait to drive it home." Despite iDrive, the 340i gives the impression of being a simple car, focused on driving pleasure. It's a traditional BMW with the powertrain and technology of a modern automotive athlete. That's one you can take home, enjoy on a date, or just jump inside and sleep with it. In case you want to keep shopping, check out the Mercedes-Benz C300, Cadillac ATS-V, and Audi A4.
Storm Forward!
Reach out to Casey at [email protected]; follow him on YouTube at AutoCasey.
2018 BMW 340i
Five-passenger, rwd sedan
Powertrain: 320hp 3.0-liter TTI6,
6-spd manual trans
Suspension f/r: Ind/Ind
Wheels f/r: 18"/18" alloy
Brakes f/r: disc/disc
Must-have features: Comfort, Powertrain
0-60 mph: 4.9s
Fuel economy: 19/29 mpg city/hwy
Assembly: Munich, Germany
Base/As-tested price: $34,900/$53,945