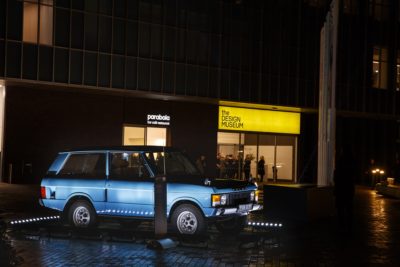 When the original Range Rover launched in 1970, I doubt anybody thought of it as museum-quality design. I mean, it was a utilitarian vehicle for surveying one's estate. But, when the body is stretched, slammed, and streamlined, it becomes art. It becomes the 2018 Range Rover Velar.
With the Velar, designers have kept traditional Range Rover styling cues, but translated them for today. Our HSE-grade wagon with R-Dynamic trim busts out with sinister gloss black grille, 20" black alloy wheels, and black accents for the faux hood vent, side trim, and mirror caps. Even the RANGE ROVER font on the hood and bootlid are black. Very cool.
But, you still see a lot of Range Rover in the wide hood, squinty LED headlamps, gently sloping roofline, and tucked-in rump. Check the doorhandles that power in flush to the body. They're cool, but I worry about them freezing shut in snow and ice.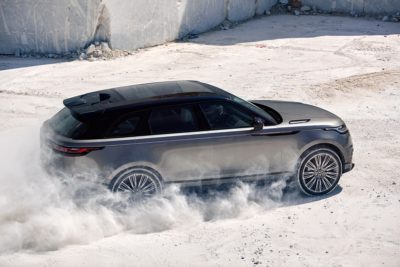 If you get stuck inside, you'll be quite content as you're surround by a divine-smelling gallery. You get all of the smooth Windsor leather you can sniff, but piano black and aluminum accents bring it forward. A nearly full glass cockpit places two touchscreens in the console, plus a flatscreen for instruments. Tap into 825 watts of Meridian audio, navigation, four-zone climate control, electrically heated windshield, and seat functions: heat, cool, and front massage.
Of course, the Velar comes with a full suite of crash avoidance technology that includes adaptive cruise, forward collision mitigation, lane keep assist, blind spot, and rear cross path detection systems. A 360-degree camera watches all flanks while the semi-autonomous parking system can ease the Rover into parallel and perpendicular spots, then ease it back out again.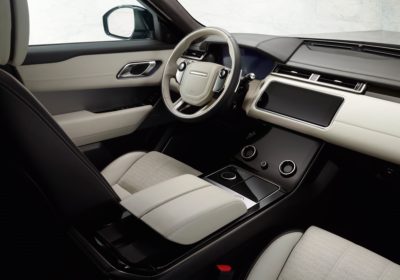 When I first started reading the specs, I saw "180 horsepower 2.0-liter turbocharged four-cylinder" and about threw down. No way would that be enough power for something the size of a Jeep Grand Cherokee. But, then I read on…and regathered composure. Apparently this rolling sculpture was implanted with a diesel engine that sends 317 lb.-ft. of torque to the full-time all-wheel-drive system through an eight-speed automatic transmission. Even better, it achieves 26/30-MPG city/highway. It takes a firm foot to get it off the line, but once the turbo awakens, smiles grace faces.
Serious off-roaders will like the diesel's torque, but the Velar is armed with some other technology to help owners get around their estates–or to valet stands. Land Rover's Terrain Response System allows drivers to optimize the chassis, powertrain, and steering for Dynamic (sport), Eco (saves fuel), and Comfort (best all-around). When hitting hill and dale, keep turning the dial for Grass, Gravel, Snow, Mud, Ruts, or Sand. Pick your poison.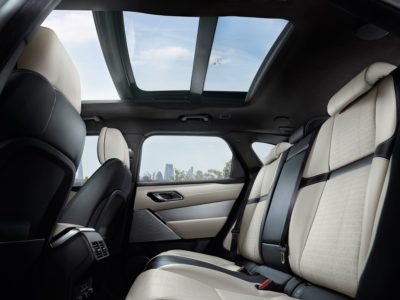 Every stylish queen needs a Range Rover. Just ask QEII, who moves around her estates in Range Rovers (so do her handsome grandsons). If she were a little bit younger, ever more stylish, and up on the latest technology, this would be her ride. And, she could be forgiven for driving one right into her art gallery. A base price of $49,900, or $70,095 as tested, places it beside the Mercedes-Benz GLE, BMW X5, and Lexus GX.
Storm Forward!
Watch Casey's video of the Range Rover Velar above, then follow him on YouTube and Twitter: @AutoCasey.
2018 Range Rover Velar
Five-passenger, AWD Crossover
Powertrain: 180hp 2.0-liter turbo-diesel, 8-spd auto trans
Output: 180hp, 317 lb.-ft. torque
Wheels f/r: 20"/20" alloy
Brakes f/r: disc/disc
Suspension f/r: elect. Ind/Ind
Must-have features: Style, Capability
Fuel economy: 26/30 mpg city/hwy
Assembly: Solihull, UK
Base/as-tested price: $49,900/70,095