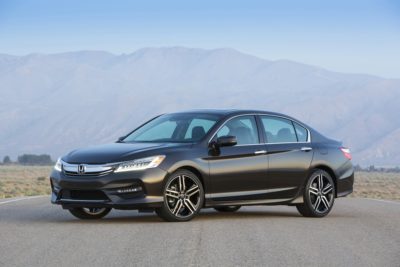 Ohhh, the 2018 Honda Accord is back on the block in a major way. Designers gave the previous ho-hum-looking Accord a swift kick to the curb and have now injected it with youngun' juice. The 10th-gen sedan is a youthful sexy biaaatch that makes you want to take her for a ride.
The Accord sedan has been a shapeshifter of sorts throughout the years and is now just all kinds of sleek and sporty. A fastback/aerodynamic design, aggressive and bold unibrow grille with chrome touches, lower profile, long sculpted hood, rakish roofline, the five-seater is definitely cute in the face and snatched at the waist.
Stepping inside the Accord, the overall design is modern, with lots of nice nooks and crannies to stash stuff. The cabin's materials are good enough to push the sedan up to near-luxury range. The car's dash appears a smidge minimalistic, so it doesn't overwhelm those who are technophobic. The touchscreen interface (8-inches) is ergonomically comfy and a cinch to operate with its tuning and volume knobs. The navigation readout is stellar, smartphone integration is available through Apple CarPlay and Android Auto. HondaLink telematics system offers such gotta-haves as roadside assistance, remote locking and unlocking, engine start, remote diagnostics, geofencing, speed tracking and plenty more. A new configurable 6-inch head-up display is included on range-topping Touring versions. Wireless charging, 4G LTE in-car Wi-Fi and Wi-Fi over-the-air system updates are also available as options.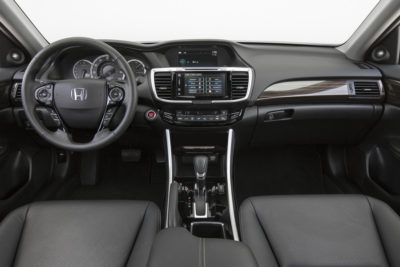 The HondaSensing suite of driver assistance and collision avoidance systems is standard on all 2018 Accords. The suite of safety features includes Collision Mitigation Braking System, Road Departure Mitigation System, Adaptive Cruise Control, Lane Keeping Assist System, and Traffic Sign Recognition.
Seating in the Accord is supportive and comfy enough, but if you happen to be horizontally challenged and sitting in the front, you might not be a happy camper on long hauls. A nice plus, though: door panels and armrests that are wonderfully padded. All 2018 Accords except for the LX trim have a 12-way power adjustable driver's seat. However, there was no front passenger seat height adjuster in the tester (Touring), which can be a bummer if you fall way under average height or like to sit tall.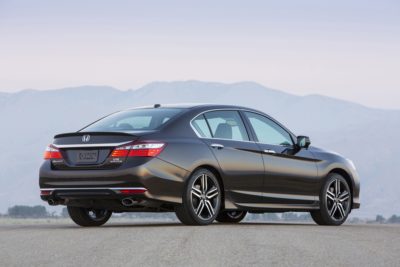 The Accord is commodious. Headroom is the rear is generous despite the sloping roofline. Legroom has increased by about two inches. Visibility all around gets high marks because the A-pillars are narrower and slightly further back. Pop the trunk and you'll find 16.7 cubic-feet of cargo space, more than in any other midsize sedan. The overall environment when driving the Accord is tranquil, zen-like which in the words of the great Martha Stewart is always a "good thing."
Power is very well-provided by the Accord: put your red bottoms to the pedal, and she does your bidding masterfully. The vehicle's driving dynamics are smooth, spritely, competent and confident. Cornering in the Accord is on-point; you can switch to a Sports mode where the steering weight is heavier and the suspension firms up for even better control. The brakes offer solid stopping in inclement weather. The test vehicle, a 2.0-liter turbo-charged inline four-cylinder engine, generates 252 hp and 273 lb-ft of torque and has a not-too-shabby EPA fuel rating of 22 mpg city and 32 mpg on the highway (26 combined). Steering in the Accord is also responsive and accurate.
The Japanese automaker's design has thankfully stepped away from a mature car to one that has zest. The 2018 Honda Accord's overall design appeals to those with Similac still on their breaths, and to the stereotypical boomer crowd as well. Space, style, sophistication, power, Honda has created quite a youthful sexy biaaatch that just might outsell all her haters.
Prices start at $23,570 (for the base LX). Need more info? Visit Honda.com.