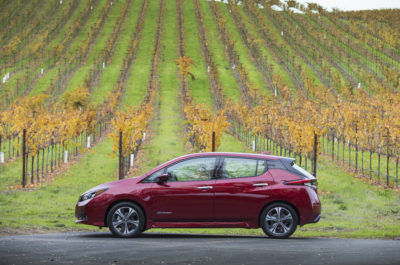 Nissan proudly boasts that the Leaf is the best-selling electric vehicle (EV) in the world in all promotional materials related to the Leaf. It's been completely redesigned for 2018 and now has a battery range of 150 miles, and that's a huge jump from when it was first introduced and seemingly could barely keep enough charge to take you around the block. You can also now get into a new Leaf for under $30K while never having to decide if you want a manual or automatic transmission. The Leaf really is the car of the future, and for all of you who love having gas (myself included), get ready for an electric shock.
Visually, the exterior is more attractive, looking less like a Toyota Prius during the George W. Bush administration and more like a car of tomorrow. (The interior seems a bit clunky, but it has been updated as well.) Turning this new Leaf over will yield a bit more pounce in confounding traffic and more of the feel of a traditional gas-powered car, though it will stop and start like an electric bumper car at old-fashioned amusement parks. The base S trim is very bare-bones, but you do get keyless entry and start, a rearview camera, forward collision warning and mitigation with automatic braking, for starters. And if you go up to the SL trim, you can even get leather seats (yeah, a bit counterintuitive for an electric car, but the customer is always right, que no?).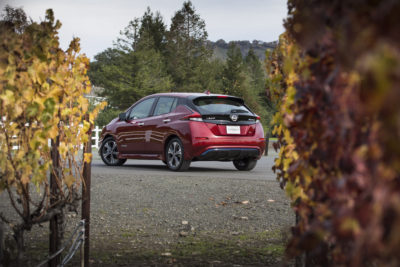 Yet the new item I found most intriguing is Nissan's all-new ProPILOT Assist system, which will be standard on all new Leafs (Leaves?). This system will help tremendously with heavy highway traffic when it combines dangerously with driver fatigue, and let's face it, we've all been there. We've all worked those 18-hour days (sometimes daily) and still have to find time to shop and run errands. ProPILOT Assist, basically, uses all kinds of technology (i.e. sensors, cameras, algorithms) to not only alert your loudly if your hands start falling off the steering wheel but also if you start drifting out of your lane and into something unintentional.  It can't completely prevent a crash, but often it can slow you down or even stop you should you fail to respond in a timely fashion.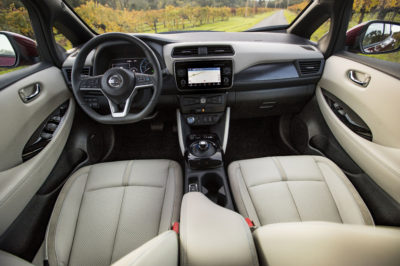 Sure, this system can be overprotective, and it can be annoying; you can also turn it off if you so desire. But I'm all in favor of using every tool you have (both digitally and humanoid) to keep you safe.  It's not really your fault that you have to work so many hours just to pay your bills, despite what Republicans in Washington will tell you about how lazy you are. Might you be sacrificing thrills and spills for safety?  Yes, and I think that's the adult thing to do: save your wild rides for the bumper cars.
I may yet warm up to electric cars, but I am not there yet.  They are the way of the future and we all best get used to it.  Yet until I have to totally give up my growling, howling gasoline engine, I plan on enjoying it as long as I can.  Call it a generational thing.
I like making quick Kum-n-Go pitstops for a variety of reasons.