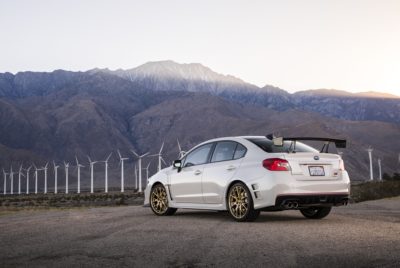 If you're going to attempt to break lap records on Germany's famed Nurburgring, you better come with a big gold set of wheels and a large rear wing! A fortified chassis and powertrain are essential too. This is the track of legends and giants – and apparently, Subarus. In honor of the car that set a lap record of 6:57.5, Subaru offers 500 lucky owners the chance to own one for the streets – and weekend tracks.
Front facias were sharpened up for 2018, melding the WRX' last-generation Impreza platform with the latest look that now includes adaptive LED headlamps. Cherry Blossom Red accents around the black mesh grille and new rear bumper are the first clue this isn't your typical WRX. And, if you're going for a record, you need to lighten up and stay planted on the ground. So, the RA's roof and pedestal wing out back are carbon fiber. Further weight was jettisoned along with the spare tire and by adding lightweight BBS 19" forged alloy wheels…painted gold, of course. It certainly looks the part of a brave warrior.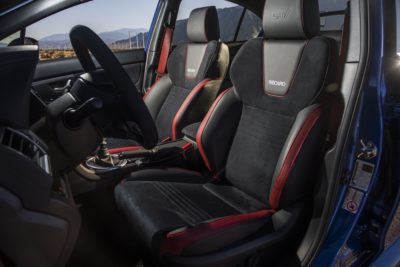 Slide into the cabin for more high style, function and comfort. Heated Recaro seats with red stitching and STi logos hug you with deep bolsters and rotating headrests. Grip the suede flat-bottom steering wheel, press the red starter button, and adjust the dual-zone automatic climate control to your delight. The touchscreen is a generation behind Subaru's latest excellent systems, but works well enough to conjure Bluetooth-enabled smartphones, navigation, and CD player. Rearview cameras aid in maneuvering.
Putting a little more pep in its step are five additional horsepower from the 2.5-liter turbocharged flat-four engine, bringing the cavalcade to 310 ponies. Subaru goes one further with a short-throw shifter for the six-speed manual transmission with a revised third gear ratio that provides a nice power band and precise movements. Think with your wrist. Fuel economy, given you can resist exercising the turbo at every whim, is rated 17/22-MPG city/highway. That's no better than a full-size pickup, but you won't care.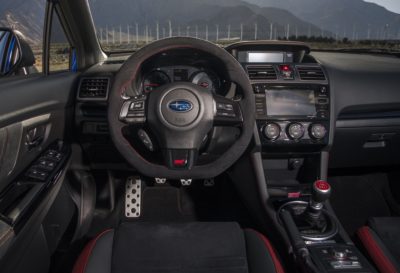 In most compact performance cars, a potent engine would be enough for grins and giggles, but this is a Subaru. All-wheel-drive, of course, comes standard, but it features a multi-mode center differential that can be adjusted for a greater rear torque bias or limit slip. Additional systems like Si-DRIVE adjust the throttle response and traction control aggressiveness. Backing all of this up are the Bilstein sport-tuned suspension and Brembo brakes with cross-drilled rotors. That means you can seriously throttle it and it keeps asking for more.
Power is smooth and plentiful, allowing even amateurs to leap through gaps in traffic, but the car is also very livable. Some of the STi's competitors have incredibly harsh rides and bone-crushing seats – not cars you want to drive far from smooth tracks. But, the STi's suspension is reasonably compliant, Recaro seats are comfortable, and the big trunk with flip-down rear seats can hold a week's worth of luggage. I'd drive it a thousand miles and enjoy them all.
There is a downside to all of this golden wheel handling, so hold onto something, because you'll be seeing all seven stars in Subaru's logo when you read the price. A base WRX starts at $27,195, but the STi RA comes to $48,995 plus $860 destination – more than you'll pay for a Volkswagen Golf R or Ford Focus RS, but still about $20k shy of a Mercedes-AMG GLA45.
Storm Forward!
Send questions and comments to Casey at AutoCasey@aol.com. Follow him on YouTube @AutoCasey.
2018 Subaru WRX STi RA
Five-passenger, AWD sedan
Powertrain: 310hp 2.5-liter T4, 6-spd manual trans
Suspension f/r: Ind/Ind
Wheels f/r: 19"/19" alloy
Brakes f/r: disc/disc
Must-have features: Style, Performance
Fuel economy: 17/22 mpg city/hwy
Assembly: Japan
Base/As-tested price: $27,195/$48,995