The following story was first published in Metrosource Magazine in 2010. We're reprinting it to honor Tab Hunter, who passed away on July 8, 2018 at the age of 86.
---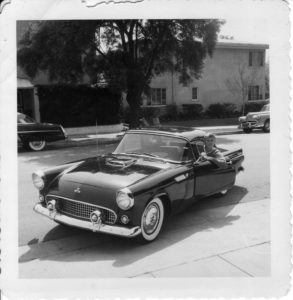 Tab Hunter is not a fan of labels, although he has earned many: Movie Star, Recording Artist, Heartthrob, Author, Businessman, Horse Trainer, Ice Skater, and Dedicated Partner. You can also add "Auto Enthusiast."
"My first car was a 1936 Ford Coupe that I bought in 1949 or '50," said Hunter. "It was the only thing I could afford, and it smoked like Oscar Levant." (Levant was a musician and actor known for his cigarettes.)
He wouldn't have to drive the old Ford for long. Few Hollywood actors or pop singers were bigger than Tab Hunter. He starred in his first movie, Island of Desire, with Linda Darnell when he was 19 and appeared in over 50 major motion pictures with amazing actresses like Sophia Loren, Natalie Wood, Rita Hayworth, Lana Turner, Debbie Reynolds, Kim Basinger, Michelle Pfeiffer (Grease 2), and Divine in John Waters' classic Polyester. He played Broadway in The Milk Train Doesn't Stop Here Anymore with Tallulah Bankhead. Hunter and Allan Glaser, his partner of nearly 30 years, co-produced Lust in the Dust and Dark Horse, starring Mimi Rogers and Ed Begley Jr. He recorded 46 singles, eight albums, and made countless television appearances.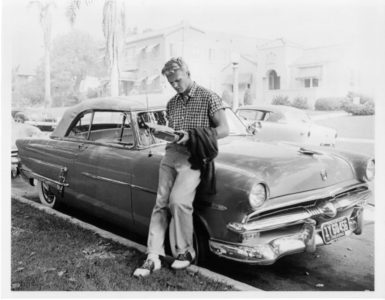 Befitting his popularity, Tab owned the best cars of their day. His first new one was an unusually colored Flamingo Red 1953 Ford Sunliner Convertible. Two years later, not yet 24, the dashing actor purchased a hot, new 1955 Ford Thunderbird–in black. Ready to spend some serious cash after releasing his first record, though advised by his manager Dick Clayton not to do so, Hunter bought a 1957 Mercedes 220S Convertible in December 1956. When a car as stunning as the 220S is at play, it is hard to deny yourself.
"I bought the Mercedes at the L.A. Auto Show and paid $6,000–a lot of money back then," said Hunter. "It was black with a red leather interior. I picked it up at the factory in Stuttgart, Germany with Dick Clayton and drove it to Rome and the South of France for a month and a half. Later, I shipped it back to the States and drove it until '59 or '60. I really should have kept that car. It was nice."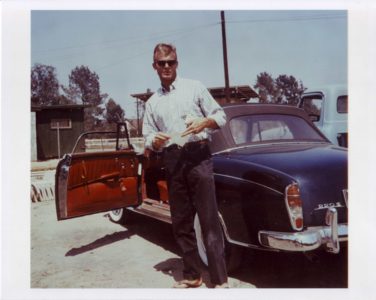 Tab says he almost had a wreck in the 220S on Sunset Boulevard when he first heard his #1 song, "Young Love", on the radio. He would soon have the opportunity to hear his hit "99 Ways" through the Mercedes' speakers as well.
As a sponsor of the Tab Hunter Show from 1960-1961, Chrysler lent Tab a 1960 Imperial, painted Autumn Russet Metallic. It was a beautiful car that Chrysler took back when the show ended after one season. It gave Hunter a reason to purchase a 1962 Cadillac convertible with a beige interior and gold exterior.
In 1964, Hunter was filming War Gods of the Deep in London and purchased a Mercedes 220SE Convertible in Havana Brown over Antique Yellow interior. He ordered it from the factory in Stuttgart, enjoyed it in London, and shipped it back to the States after the movie wrapped.
The 220SE's custom color combination was unique and special-ordered, but as Tab writes in his book, everybody in Hollywood was driving a brown Mercedes. He drove his several years before purchasing a black 1968 Mercedes 280SL roadster.
"I had one of the first Mercedes 280SLs," said Hunter. "I left the car with a friend in Genoa to have it shipped back. Unfortunately, it went off a cliff and was totaled. My friend, fortunately, was OK. I replaced it with a black 1970 Mercedes 280SL. Now, I'm anti black cars. They get so dirty; I never wash cars–I'm lucky if I wash mine every two or three months."
Those not familiar with the man behind the movies and songs might not know Hunter loves horses, having trained and bred them for decades. In fact, much of his early money went to supporting his equestrian habits–at one point, virtually living in a stable. Many of his cars since the early seventies were purchased to enable this passion. There was an International Harvester, a Ford pickup, a Chevy pickup, and another Chevy pickup. He also owned three Mercedes wagons and bought new Range Rovers in 1988, 1992, and 1995.
"I didn't like the Mercedes diesels, not good in cold weather," said Tab. "The first Mercedes wagon was not the best – not like the earlier Mercedes. The Range Rovers were nice, but gutless–not enough power. When not in Hollywood, I spent time with horses and used to be concerned about what the vehicles could pull."
He also owned an Audi wagon and GMC Yukon before purchasing his current ride, a Toyota Prius. "Allan thinks it's ugly, and hates driving it," remarked Tab. "His Audi convertible is a selfish little car. Three or four of my friends had a Prius and told me to buy one. It is perfect–a little jewel. I think it is the only one without an Obama sticker on it."
There are a couple more great reasons to own a Prius–his dogs. "I choose cars that I like the look of and don't break down. Now, I don't care as much as when I was younger. My car has dog pillows and blankets, electrical tape where they've chewed through the seatbelts. They're damn expensive dogs! They jump in the morning, and before you know it, we're off to the beach. Cars should be animal cars. The Prius is great for that–lots of room."
Given all of the beautiful cars he's owned over the years, you might wonder what he wants next.
"I like the Cadillac [CTS] Wagon. Cadillacs used to be land yachts–quite fabulous! I also like the SRX [crossover]. Both cars would be good with the dogs."
I mention the 550-horsepower Cadillac CTS-V Wagon that is coming this summer.
"Who needs that much power," he asks? "My friend, [Indy Car legend] Andy Granatelli would like it. You should see his collection! But, I just don't need it."
The Cadillacs have it all: Beautiful styling, power liftgates, high tailfins–perfect for the man who has owned many fine automobiles and enjoys taking his dogs to the beach. Maybe Allan would even drive one!
"I like cars–love getting behind the wheel of a car, driving back and forth to New Mexico, or going cross-country," said Hunter. "By the time most people get started, they're bored. I love it."
What else but an auto enthusiast could you call someone who remembers the exact paint colors of his cars from decades ago?
"I didn't realize how many vehicles I had," said Tab. "I'm very fortunate to have owned some very nice cars." He is, indeed.
Storm Forward!
---
To learn more, read Tab Hunter Confidential: The Making of a Movie Star. It is an enjoyable book about a fun person who happens to have lived an extraordinary life. Thanks to Allan Glaser for his help with this story.