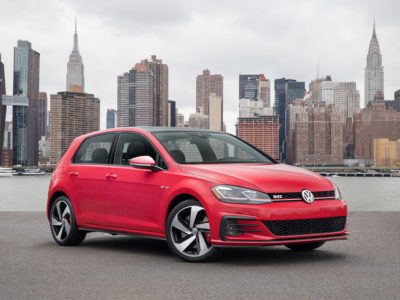 Over the Memorial Day weekend, I drove a base Volkswagen Golf, with a five-speed manual transmission, all across Indiana and Illinois to visit family and friends. It rode comfortably, handled well, and generally enjoyed the left lane at whatever speed I chose. But, I had to think how much more I might have liked all of that driving in the sportier and more powerful Golf GTI. Last weekend, I found out.
While it looks sleeker and meaner, the GTI is encapsulated in the same streamlined two-boxish design as other Golfs. That's fine, because it looks like an evolution of the original Giugiaro-designed GTI from the '70s and is as practical for daily use as any other Golf. In GTI trim, the front sports the iconic red line grille surround, aggressive lower facia, and adaptive LED headlamps, Monochrome paint and 18" alloys dominate the side profile while large bright twin exhaust outlets announce its pedigree. Flip open the rear hatch and fling down the split/fold rear seats to toss in a bicycle, camping gear, or your big, panting dog.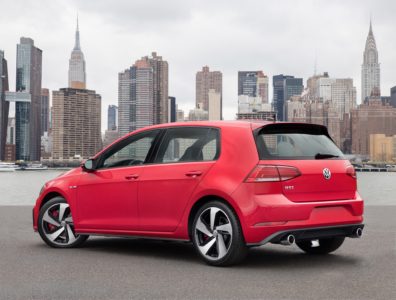 You may not want that beast to dribble on the deeply-bolstered heated leather sport seats with red stitching up front. Keep him away from the thick flat-bottom steering wheel too. No need to chew that up. The rest of the interior is deceptively simple, but nothing feels cheap. Infotainment, including crisp Fender audio and navigation, can be controlled with the big swipe-sensitive touchscreen, voice, or via actual volume and tuning knobs. Dual-zone automatic climate control blows ice cold, even while sitting in traffic on a 100-degree day. The power sunroof, Bluetooth, and Apple Carplay make drives more enjoyable.
They're also safer given the full suite of crash-avoidance technology aboard the GTI Autobahn. A rearview camera is expected, but the car also comes with radar-adaptive cruise control, forward collision warning with crash mitigation, rear cross path detection, blind spot warning, and lane keep assist systems. It even has an automated parallel parking system. Enough talk; let's get on the road.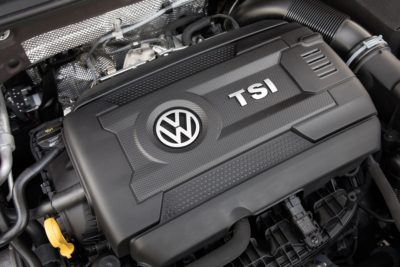 Base Golfs come with a 170 horsepower, 1.8-liter turbocharged four-cylinder engine, but the GTI hammers highways with a 2.0-liter turbo-four generating 220 horsepower and 258 lb.-ft. of torque. The six-speed manual would be fantastic if it had slightly shorter throws. There's enough power to get off the line swiftly and kick it up onramps and onto freeways with ease, but that same turbo sweeps the car forward when you want to pass or clip through mountains. A limited slip front differential gets power to the ground with a minimum of fuss. Fuel economy is rated 25/33-MPG city/highway.
The car can definitely swallow long distances in a single gulp…with adjustments. The Mode select button allows drivers to configure the throttle and chassis from Eco to Comfort, Normal, and Sport. There's even a custom screen that allows you to select your own preferences. Want the sensitive throttle with a comfortable ride? No problem. After a few hours on the Interstate, the throaty exhaust tone and stiff suspension was starting to wear, so I clicked from Sport to Comfort and it transformed into an entirely calmer experience. Nice.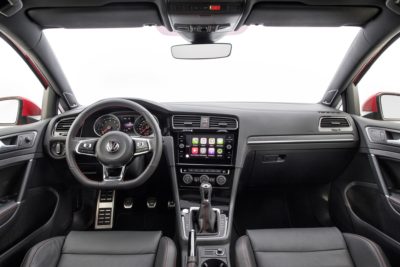 Any car with "Autobahn" in its name better be capable of covering vast distances in a big hurry. And, nobody driving a GTI will be disappointed in its capability to zap miles with laser focus (or at least radar focus). Even better, it is as practical as any other Golf. It looks especially fetching in red, but that's probably not the best color for annihilating America's Autobahns.
The VW Golf starts at $20,910 while GTIs rise from $26,415. All in, our Autobahn edition rolled out for $35,920. For even more performance, step up to the Golf R and enjoy its 292 horsepower connected to AWD. However you take your Golf, there's plenty of left-lane driving in your future.
Storm Forward!
View Casey's video of the Volkswagen GTI; contact him at [email protected]
2018 Volkswagen Golf GTI
Five-passenger, fwd compact
Powertrain: 220hp 2.0-liter T4, 6-spd man trans
Suspension f/r: Ind/Ind
Wheels f/r: 18"/18" alloy
Brakes f/r: disc/disc
Must-have features: Style, Powertrain
Fuel economy: 25/33 mpg city/hwy
Assembly: Puebla, Mexico
Base/As-tested price: $20,910/$35,920