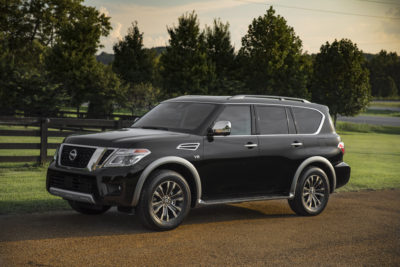 I love all things big and strong, even if I can't handle them.  In my U.S. Army days, there was no soldier that could top me, mostly because none of them tried. That gave me way too much confidence when it came to cars, so when I first met the Nissan Armada, I wasn't afraid of this beast.  I felt like I could tame it in just a few turns and just few bars of Lady Gaga, and I was right. This car is a tank and it will protect you from all those kale-eating hipsters on bicycles who don't want to share the road with your largesse. Too bad, because my large ass takes up a lot of room and what better way to say it than to plant it firmly in this year's Nissan Armada?
"Bold, aggressive exterior design combing contemporary style with traditional Nissan SUV ruggedness." Whoever wrote that also writes gay porn dust jackets on the side, no doubt. How can any man turn away from something that sounds so butch from just a little ink and paper? In simple terms, this year's Armada can hold eight passengers (or six bears) and tow up to 8,500 pounds when properly equipped. (That means the harness must be right and tight, girls and boys.) A 5.6-liter V8 engine with a standard maximum 390 horsepower and 394 pound-feet of torque at 4,000 rpm (depending on trim) makes the Armada that much tougher and rougher. Four-wheel-drive and two-wheel-drive versions are available.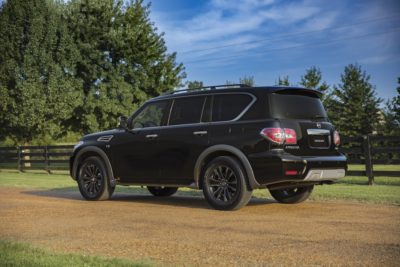 For all LGBTQs, it really comes down to preference, which really comes down to pocketbook.  You can get an optional Dark Chrome exterior, which really looks nice and ups the price a bit. Optional two-tone leather appointments inside, along with Black Quartz and premium wood tones are also available. Heck, they even come with the words "Platinum Reserve" embossed on the console lid.  Yeah, I'm not sure that's necessary, but hey, if you're paying for it….
Speaking of which, the most affordable Armada (the 2WD base SV trim) comes in a bit over $46,000. Yikes, even to my old queen ears that still sounds like a lot of money.  The most expensive trim, the Armada Platinum Reserve 4WD, runs more than $65,000. That's a $20,000 difference, which could mean a year of college tuition (insert laugh, because if you really are in college and taking your studies seriously…well, you see what I'm saying).
Fuel economy is where this beast loses some luster. The 2WD versions get a combined 16 mpg and the 4WD versions get a combined 15 mpg. Yes, those big boys like to drink, and they usually flush it out just as quickly as they take it in.  And then they demand you put some more down their tanks.
Still, what's not to love about a big brute that attracts attention just because of its sheer girth and prowess?  The 2018 Armada does get everyone's attention, and not just because you may accidentally drive it over a brand-new flowerbed or smaller item of insignificance. Caution is always advised when handling something this big, because trust me, if you take this home and wake up with it nearby, you may be looking at some painful payments ahead, which may give you and your spouse a headache– but just for the morning.
Sometimes love works out that way.