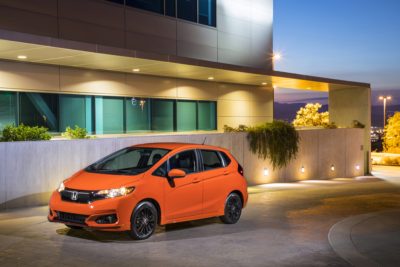 If there is one car that really is a gem no matter where it goes for whatever reason, it's the Honda Fit–despite its lackluster name.
It's the car that can fit everything inside: your present, your past, and your future, which we all have, even though sometimes it doesn't feel like we do. Handling is great–something to do with fine-tuned suspension and the ability to make you look not-so-stupid when you drive over a dead animal in the road, or run over a low curb at the check-cashing hut.
I love how the dashboard is laid out: everything you need to see is right in front of your eyes. There is no guesswork with the Honda Fit.  You don't need an advanced degree in hipster nerd-ism to operate this car. It is truly a reliable car that, sure, it's a bit of a plain Jane, but your mother (even your adopted mother who lives next door in your apartment building) would approve of you owning one.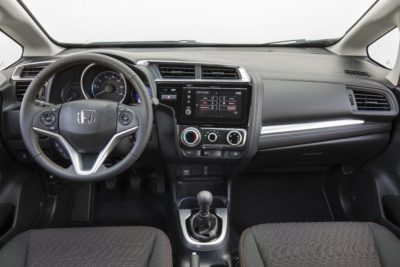 This year's Fit is unchanged from last year.  Heck, it's basically unchanged since its last makeover in 2015.  You get some updates: Apple and Android car accessories, which everyone should have. The volume control knob is back (I did not know it went away) and it's right there, front and center, on the center console. And you should notice a quieter ride when you do run over that dead animal. It's still a great car, but based on the advice of U.S. News and World Report, which I always love, you might look at getting a used Fit for cheaper if money is an issue. (Though if you are considering a Honda Fit, money is quite possibly an issue, okay?)
The base trim starts at $16,190, which is very affordable. You won't get much for that: rearview camera, cruise control, keyless entry, five-inch display screen (five inches?). I tested the 2018 Honda Fit 5-Door Sport trim, one of the midrange trims that can be had for a few thousand-dollars more. That upgrade comes with some sportier features, like leather-wrapped steering wheel and shift knob, plus seven inches (now we're talking) for the entertainment system. The top trim is the EX-L, which is just $20,000, but I think you might be okay shooting for the midrange.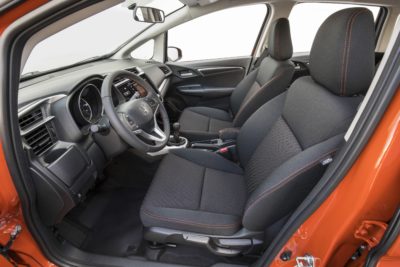 A 1.5-liter inline-four. That's the engine you get, so if you need or want more than that, the Fit is not your car.  But trust me, this is enough of an engine to get your around town, to your aunt's house for Sunday dinner, to your boyfriend's family's holiday gathering in the woods and to work in the garment district or South of Market where no one can afford to live (or park). Mileage is 33 city / 40 highway, so that ain't bad for an all-gasoline car. This year's Honda Fit won't hit you in the wallet and won't remind you all the time that your money is going down the drain: let the big banks you owe for your education and your chemo remind you of that.
I love the Fit.  It reminds of the Nissan Versa, which I also love. Yeah sure, they all start looking alike after a while, like the men in my life, though I do try to keep the good ones around.
The Honda Fit is indeed a keeper.