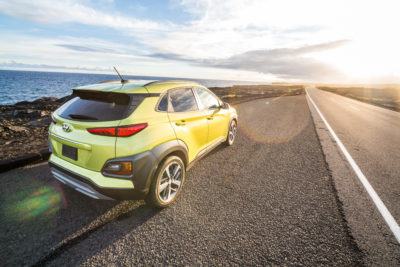 You'll pay through the nose for 100% Hawaiian Kona coffee, but the brand-new 2018 Hyundai Kona is a bargain. Starting at just under $20,000, the Kona is rich, tasteful, and hot like a lava flow. This car has just about everything a phat, rad, gnarly, groovy, urban LGBTQ hipster-lite could want in a baby SUV–and you can park it just about anywhere.
Offered with a spunky little 1.6-liter turbo (not standard), the Kona is like a pocket bear top that always hits the spot.  I thoroughly enjoyed driving the Kona (just think if Hyundai had named it Blonde Roast). There was plenty of interior room for me, and that's saying something, since I'm a big boned gal from southern Alberta. If I lived in the city (which I do) and needed to get around in a reliable car (which I do), the 2018 Hyundai Kona would be an excellent choice for driving, styling, seeing, and being seen.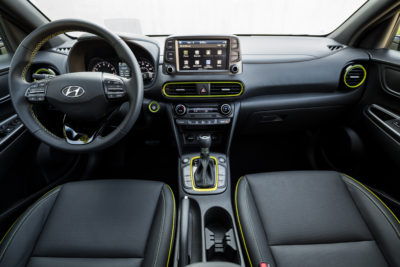 I love U.S. News and World Report because its employees are journalists–real journalists who take their jobs seriously.  They compile information on cars from a range of sources, then analyze it and give readers a thorough recap of what all the pros are saying.  Well, guess what? The website found that the brand-new Kona, in its debutante year, is the number one car in all three categories in which it competes: Subcompact SUV, SUV with two rows, and Crossover SUV. Kids, that was earned and not awarded by loyalists, and it's truly unbelievable in a fantastic way.
I love how the Kona looks, even though Edmunds.com calls it "somewhat polarizing". Okay, maybe I look at it and see Gay Gay Gay, but I say that in a positive way, just as I have attempted to reclaim the phrase "that's so gay" for our benefit.  What is a gay look?  A gay look is eye-catching, and it may not fly in Trump country, to which I say Fab-u-loso. A gay look stands out in a crowd, unless you're on a runway surrounded by drag queens. A gay look says The Young and The Restless have canoodled with The Bold and The Beautiful and given birth to a Pride parade that stuns and stops but doesn't disrupt.  This is what the 2018 Hyundai Kona does to the people who drive it and the people who see it.
But alas, gentle readers, please do your homework.  I admit, the Kona can get tight in the backseats, and cargo space for your BDSM gear (Bowling, Dancing, Singing and Modeling) is not as generous on similar models. But, wow, if you need something small and tight that you can get into and out of feeling satisfied, have a nice big splash of Kona.
P.S. I imagine Hyundai is glad it chose the name Kona and not Kilauea, don't you?