In the century since Henry Ford purchased Lincoln, the automaker has been true to its mission of offering distinguished exterior styling, sumptuous interiors, and a driving experience that's uniquely American. Think about the Continental, Mark V, and Town Car. These autos are whisper quiet and ride smooth, all while spoiling passengers rotten. Lincoln's current icon is the Navigator, but a couple of rungs down, is the more affordable urban-friendly 2021 Corsair Reserve.
During the past hundred years, it seems Lincoln has about as many design themes, but this one looks suave. It shares almost all of its design details from the Continental-style grille to chrome badges on the doors and full-width taillamps with the Navigator. From some angle it looks a bit British, channeling a healthy dose of Range Rover. Our Reserve and sport packages render the grille and trim in black, add 20" wheels, and bling with Pristine White metallic paint.
Inside, the Beyond Blue theme is truly decadent.  Seats, dash, doors, console, and steering wheel all wear a shade of blue that could have come from the canals of Venice.  Front seats are 24-way adjustable, heated and cooled.  Rear seats and steering wheel are also heated.  Soft leather smells divine and should as it comes from Bridge of Weir, the same tannery that provided hides for the 1956-57 Continental Mark II.  Interior chimes, recorded by the Detroit Symphony Orchestra, are sublime.  Open the panoramic sunroof and crank the 14-speaker Revel audio system.  Active noise control hushes the cabin.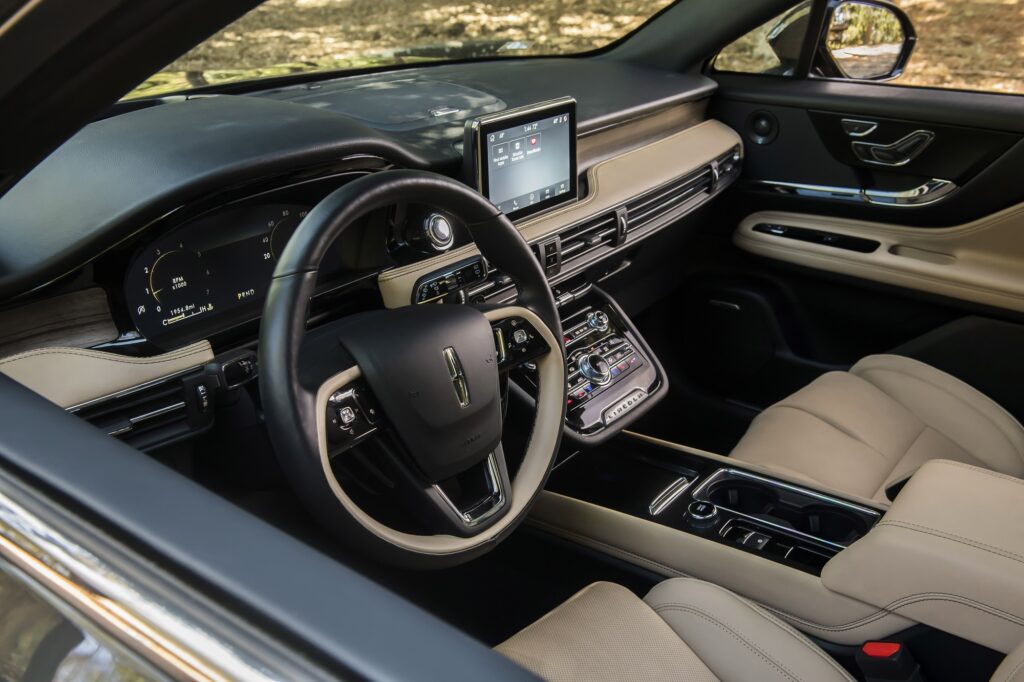 A product of this decade, the Corsair has all of the toys. Flatscreen gauges and an intuitive touchscreen for audio, phone, and navigation are visually crisp while devices connect seamlessly via Bluetooth, Apple CarPlay, Android Auto, and 4G Wi-Fi. Wireless charging keeps them humming. A full umbrella of safety includes lane-centering adaptive cruise, forward collision alert with auto brake, blind spot warning, and rear cross path detection with braking. Automated parallel/perpendicular parking and rear seat child minder are appreciated.
Step into the throttle to be swept away.  Reserve models harbor a 2.3-liter turbocharged four-cylinder engine that sends 295 horsepower and 310 lb.-ft. of torque through an eight-speed automatic transmission.  Front-drive is standard, but add available all-wheel-drive for poor weather traction.  There's plenty of power to move the Corsair with vigor few classic Lincolns could match, even with giant V8 engines under long hoods.  Further embarrassing its ancestors, the Corsair boasts fuel economy of 21/28-MPG city/highway.
Even with an adaptive suspension and adjustable drive modes, the Corsair will never be confused with a BMW.  Handling is never sloppy, but there's a slight float in the suspension that provides a comfortable ride.  Large wheels are difficult to tame over rough pavement, but the little crossover runs tight roads like a fit gent.  Whether taking the kids to school or your significant other to dinner, it's an affable place to dwell.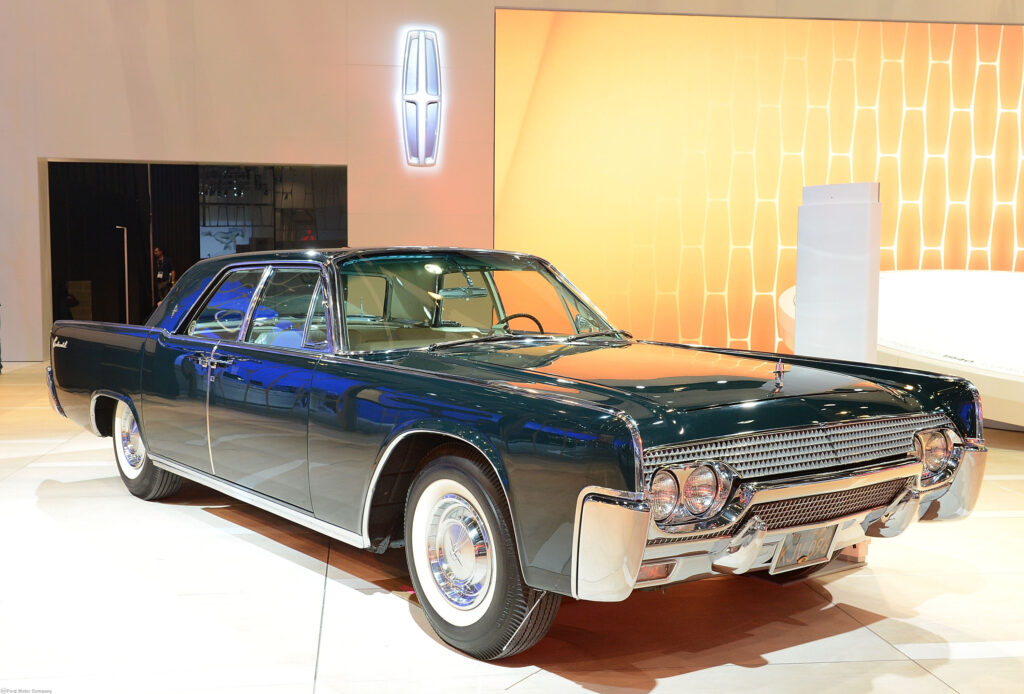 All of the blue and white styling makes me nostalgic for the '70s Mark V Bill Blass edition, but the Corsair Reserve is a wholly modern crossover. A little glitz on the outside, thoughtful style on the inside, and a smooth drive set it apart. While the Corsair starts at a reasonable $36,105, ours came to loftier $57,680 all-in. That puts it against competitors like the Cadillac XT4, Mercedes-Benz GLC, BMW X3, and Lexus NX.
Storm Forward!
Send comments to Casey at AutoCasey@aol.com; follow him on YouTube @AutoCasey.