I have long been a fan of the Mini, a fun little zipper with classic British looks that can fillet cars way above its weight class. About ten years ago, my family even bought a first-generation Countryman crossover. It was underpowered, but drove like a BMW, got good gas mileage and had the best Harman Kardon audio system I've ever heard. It became too small for our growing family, so it had to go. I wonder if we would have made the same hard choice if we owned the 2021 Mini Countryman SE ALL4 "plug-in".
It's not exactly mini anymore, but it's still huggable with its pugnacious handsome looks, bulging LED headlamps, and traditional grille.  LED foglamps, 18" alloy wheels, and Union Jack emblazoned within the taillamps add detail.  Our car had the piano black package, which darkens the grille, wheels, mirrors, and COUNTRYMAN on the rear hatch.  It's especially fetching painted White Silver with black racing stripes.
Look closer, though, and you'll notice a little chrome door on the front fender.  Behind it is the plug.  Connect to a home charger and it will replenish the batteries in 2.5 hours.  After that, drive 17 miles on electricity before the gas engine fires up.  Total range is about 300 miles.  Longer EV range would be even better, but it's a good balance of urban efficiency and long-range capability.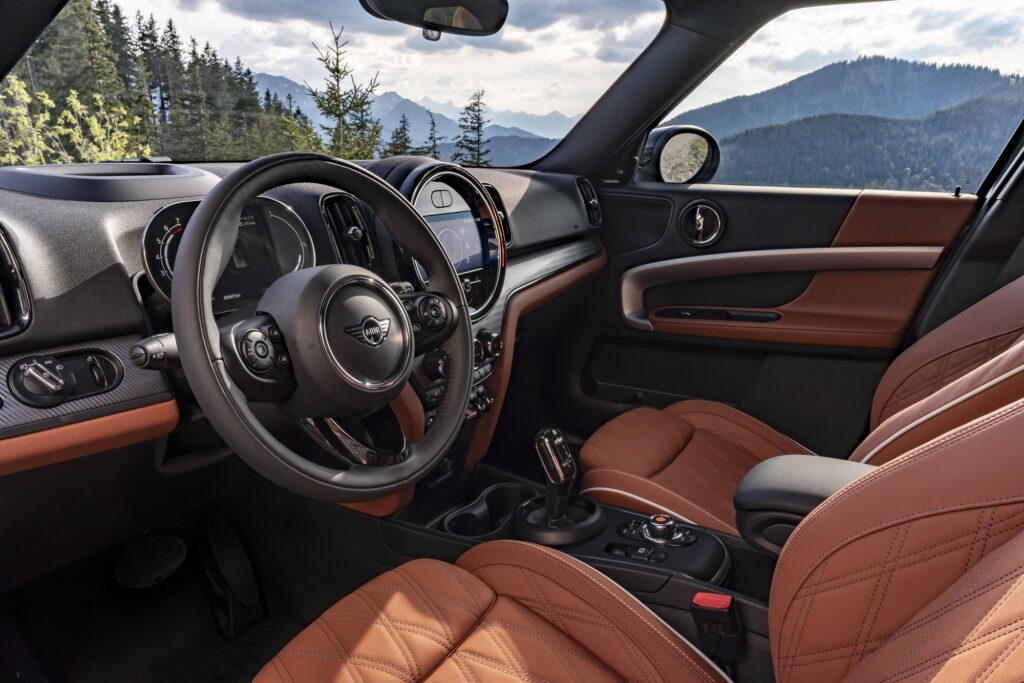 Near or far, old world charm and advanced technology make the interior a delightful place to dwell. Diamond-stitched heated leather seats are delicious in the new Chesterfield Indigo Blue. Extendable lower cushions and deep bolsters cosset even tall drivers and passengers. Harman Kardon audio, dual pane sunroof, and ambient lighting that seeps from metallic trim on the dashboard add ambience.
There's still a round dash pod where Mini speedometers once spun, but it's now the infotainment hub with a touchscreen that can also be controlled by voice or an iDrive-style joywheel in the console.  Below, are dual-zone automatic climate control and toggle switches for ignition and drive modes.  The digital cockpit's flatscreen instrument cluster is easy to read and has a gauge that tells you whether batteries are charging or discharging.  Safety is enhanced with adaptive cruise, forward collision warning with auto brake, blind spot indicator, and rear cross path detection.
There's much happening behind the Mini's cute face, but it all works smoothly on the road.  The gas part comes via a 1.5-liter turbocharged three-cylinder engine routing power to the front wheels through a six-speed automatic transmission.  The hybrid part contributes electricity to a synchronous motor driving the rear wheels.  The system delivers a peppy 228 horsepower and frugal 73-MPGe.  Roll from rest to sixty in a brief 6.5 seconds.  Accelerating beyond 80 mph, patience becomes virtue.
It's not ultimate velocity that matters, but rather how smoothly the Mini gets there. Out on the open prairie, the Countryman's stiff suspension and heavy steering took the left lane like a boss. Power comes on smoothly from the turbo up front and electric motor out back. Get onto curvy tow-lanes to enjoy the well-sorted chassis and torque vectoring that tighten corners as if by magic. Flip the drive mode selector for sharper throttle response or a more relaxed demeanor to save fuel. Drivers can even choose when to run on batteries (in the city), gas (on the highway), or let the system automatically decide (max MPGs).
Nearly forty percent of all Minis sold are Countrymans.  I'm sure the plug-in version will be considerably dearer, but even cooler.  From the saturating interior to its silky performance, frugal fuel economy, and German road manners, it is all I remembered in my old Mini and so much more.  It's not cheap, though.  All in, our car wore a $45,850 window sticker.  Federal and state tax credits should diminish that toll considerably.
Storm Forward!
Send comments to Casey at AutoCasey@aol.com; follow him on YouTube @AutoCasey.