The 2021 Volkswagen Jetta GLI is indeed a specific type of Jetta. The really fun one, if you will.
Not that the regular Jetta is not fun. All VWs get the turbo treatment, and over the years, this has proven to be a real gasser for all cars big and small, especially the small which often get ignored when it comes to fun and performance.
It's still a Jetta, so it's still a compact car. So of course, make sure it's right for you – and your family. That means that having just one additional member, even a toy poodle, may mean that your day-to-day living and life duties may require that you get something bigger. Hey, life does get in the way at times.
Assuming you've cleared all those hurdles, you'll be pleased to know that the sticker price for the Jetta GLI starts at $26,345 US for the S trim, which is the base trim. The other trim, the Autobahn (the one I tested, really nice!) starts at $30,745.
228 horsepower. Manual or Automatic transmission, however you like to drive. Performance brakes. Leather steering wheel. Push-button start. Automatic braking. Blind-spot monitoring. That's just at the base S trim.
If you can afford to go to the Autobahn trim, you will not be disappointed. Panoramic sunroof. Leather seats. Wireless Apple CarPlay and Android Auto. Adaptive Cruise Control. Wireless Charging Pad. 8-inch Touchscreen. Adaptive Cruise Control. Lane-keep Assist. Automatic High Beams.
With the Autobahn, you can also add-on summer tires and a Black Package of black exterior accents.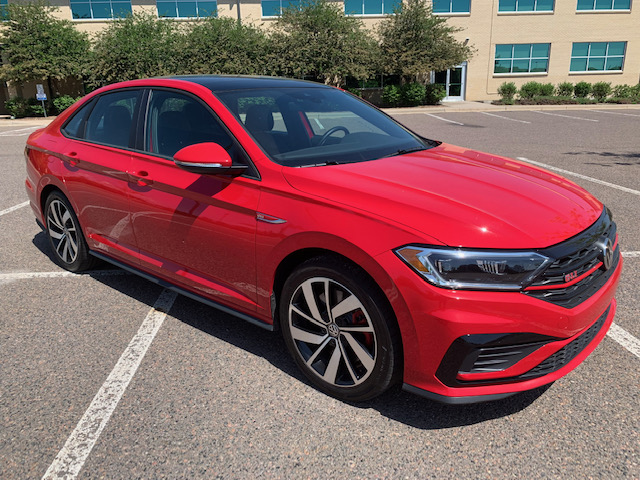 This was a fun little car all the way around. (I guess I should mention that it is essential that you know how to drive a clutch if you get a manual transmission. Just sayin'…..)
Mileage is 24 city / 35 highway. This is not the car you take to the big box stores on Saturdays and stock up for the month. And you can't pile the kiddies' hockey team in here either. Just thought I would throw that out there…..
This is a car you enjoy. You may still have to commute, or you want to commute. To get away from your cat. Or – whoever. Whatever. You like to hit the road with your thermos and your playlist and just you. Can you feel the road calling?
I truly enjoyed driving this car. Volkswagen has really created some nice cars as of late: fun to drive, practical, more efficient over the years. The 2021 GLI is no exception. (Specifically, I tested the GLI 2.0T Autobahn.)
A reminder: it's still a very rough car market out there: new or used. I would love to tell you that all you have to do is go to your dealer and ask for a 2021 Jetta GLI and make a selection and – Viola Davis! – it will be there in a matter of days, just as you asked.
Not likely. But … you never know. Give it a try. Can't hurt. After all, our opponents for some reason think we possess magical powers.
Now is as good a time as any to find out.