For some of you, the idea of a five-door Ford Mustang galloping with electricity may be sacrilegious.  For others, they may welcome the ability to carry kids, get through snow, and not spend a dime on gasoline.  I fall in the latter and think many of the former will eventually join me in welcoming all that is the 2022 Ford Mustang Mach-E.
I've driven many Mustangs, but never has my daughter just hopped in the backseat while I powered open the hatch to throw in all my…and her…gear.  With split/fold rear seats, you carry all of your camping gear or IKEA haul.  It's nice having a sporty car in which you can live a normal life.  Besides, the Mach-E is not the first Mustang to stray from the long-honored formula of a two-door convertible or coupe.  Ford created design studies of a wagon and sedan in the '60s.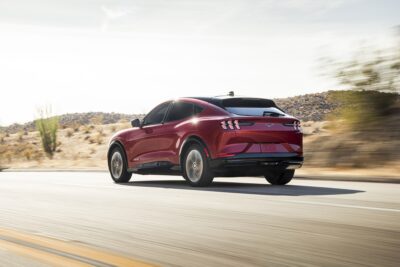 Five doors, jacked up ride and all, the Mach-E looks like a Mustang.  Sure, there's a plastic panel where a grille normally resides, but its Mustang logo leads squinty LED headlamps, flared hood forms, tightly-drawn fenders, muscular rear fender kick-ups, and fastback roofline that connect the Mach-E to other Mustangs.  Around back, a wide stance and triple-barrel taillamps could be on no other vehicle.  Put it all over 19" wheels and you have a practical crossover that channels its heritage fully.
Inside, all eyes focus on the large tablet in the center dash for controlling navigation, media, B&O audio, heated seats, heated steering wheel, and dual-zone automatic climate control.  Connect with Apple CarPlay and Android Auto; charge wirelessly in the console.  A fixed panoramic glass roof lets in all the light.  Safety is enhanced with automatic emergency braking, lane keep assist, cross traffic alert, and blind spot warning.
Riding on the highway, with hands off the steering wheel, it's obvious this is a different breed of Mustang.  Ford's Blue Cruise adaptive cruise control allows the car to essentially drive itself on 130,000 miles of pre-approved roads.  There's a camera on the steering column making sure drivers are alert, so no reading allowed.  Relaxing with a soft drink or a cup of java is fine, however.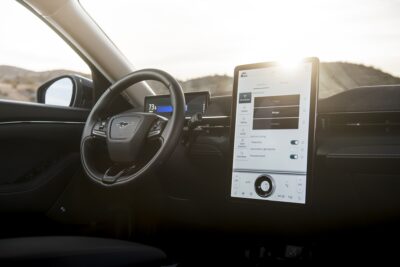 Beyond that, the electric powertrain is quite advanced.  Even the base version with extended-range battery delivers a whopping 346 horsepower and 428 lb.-ft. of torque to whisk onto freeways with ease.  Think 0-60 mph in 4.8 seconds.  Fully charged and lightly accelerated, Ford claims 290 miles range.  Charging is relatively quick.  Go 10-80% in 45 minutes on a DC fast charger or fully charged overnight on a 240v home unit.  Plugging into a household plug takes days.
Beyond slipping through traffic silently, the Mach-E provides a driving experience like no Mustang before.  Battery weight is kept low in a chassis that's tuned for a balance of handling and comfort.  Strafing some of my favorite two-lane backroads, it handled corners expertly, stayed settled over crests, and zapped slow-moving farm trucks.  All that, and all-wheel-drive provides an additional level of security on slick and snowy roads.
There is a deep well of love for Mustang.  I've talked to many people who respect the car's muscular American heritage, but say they need room for kids, want to carry their stuff, are worried about driving through snow, or don't want to spend so much for gas.  For all of them, the Mach-E is a better Mustang.  A base price of $46,895 or $56,200 puts it against the Tesla Model Y, Volkswagen ID.4, Kia EV6, Nissan Ariya, and upcoming Chevy Blazer EV.
Storm Forward!
Send comments to Casey at [email protected]; follow him on YouTube @AutoCasey.