There's a certain feel to a Mercedes.  They're smooth, sure, but with a heaviness that imbues a sense of quality and safety.  Styling evolves over time so one generation doesn't completely obsolete the previous one.  Interiors provide the technology and authentic touches upscale buyers appreciate.  Mercedes could have delivered an entirely different type of vehicle when it contemplated a compact electric crossover, but the 2022 EQB300 is a proud Mercedes.
Unlike Tesla, which had a clean slate to create electric vehicles, Mercedes must build EVs and gas-powered models for now.  So, the EQB looks much like the gas-powered GLB.  That means the mini GLS styling connects it to Mercedes' larger crossover family with rounded upright forms, but cues like the flush front facia, streamlined 18" wheels, full-width rear lightbar, and EQS300 badging tell you this one goes without fossils.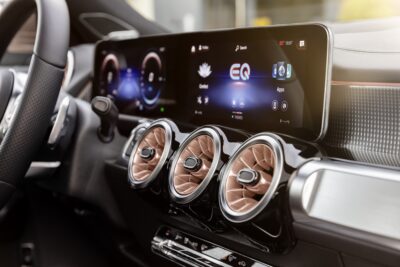 Interior design riffs on the best hits from Mercedes, including round air vents from the '80s SL and twin screens for instruments and infotainment.  A touchpad in the console can be used to swipe through menus for navigation, media, radio, and vehicle settings, but I prefer to use the screen itself.  Apple CarPlay, Android Auto, and navigation with EV optimization add convenience – as do heated front seats, automatic climate control, power liftgate, and rain-sensing wipers.
There are many cool details like pixilated lighting on the dashboard, MB Tex seats, and faux suede that honor today's environmentally-conscious buyers.  It's beautiful, but keeps trees towering and cows grazing. A panoramic glass roof and changeable ambient lighting brightens the bunker.  Safety, long a Mercedes strength, includes automatic emergency braking, blind spot warning, and rear cross path detection.  It should have included adaptive cruise too.
Underway, lithium-ion batteries and twin motors deliver 225 horsepower and 288 lb.-ft. of torque to the all-wheel-drive system.  Charging takes over 7.5 hours on a home or commercial 240-volt charger or can replenish 10-80% in 32 minutes on a DC fast charger.  That provides 243 miles driving range.  It's not the fastest, requiring 7 seconds to wisp from 0-60 mph, but accelerating onto fast freeways is easy.  If you want to compare economy to your gas-powered car, it's rated 104/98-MPGe city/highway.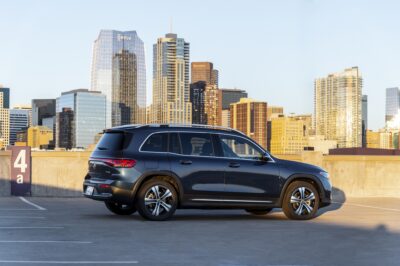 But, those are just the numbers.  During nearly 200 miles of city and highway driving yesterday, I discovered how much I like driving the EQB.  It has that iron sponge feel of wafting down the highway that was such a hallmark of classic Mercedes combined with smooth, instant acceleration when desired.  The Dynamic Select configure accelerator sensitivity and steering feel from Sport to Comfort and Eco.  One pedal driving kicks in the regenerative braking upon lifting off.  It's all very pleasant whether driving through the city to work or getting a weekend away.
I've been in and around Mercedes for nearly a half-century, so I was especially curious about the EQB300.  I knew it would quiet, comfortable, and easy to plug in, perfect for those wanting a smaller luxury crossover, but it's also a good Mercedes.  It's a little pricey given excellent competitors, and range could improve, but there's much to like in everyday driving.  A base price of $54,500 – $61,650 as-tested – puts the EQB300 against the Tesla Model Y, Cadillac LYRIQ, Audi Q4 e-tron, Genesis GV60, and Volvo XC40 Recharge.
Storm Forward!
Send comments to Casey at [email protected]; follow him on YouTube @AutoCasey.