It didn't look like much from the outside, but the first generation Kia Niro became a smash success, employing hybrid and EV technology far more advanced than its simple two-box shape would indicate.  But it always seemed to while away in the shadow of its more flamboyant and taller sibling, the Soul.  Not anymore.  A flashier exterior, slick interior, and enhanced hybrid powertrain helps the redesigned 2023 Niro find its inner soul.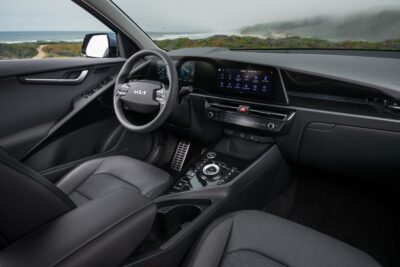 It finally looks the part of an electrified stylemeister.  Front styling borrows from the larger Sportage with vertical LED headlamps and angled driving lights, but the two-box side is illuminated by black roof rails, distinguished black rear side panel, and taillamps that appear lifted from a Cadillac.  It's small, but upscale.  Paint it all over stylish 18" wheels.
The plush interior, focused on twin 10.25" screens for gauges and infotainment, could have been lifted from the Kia EV6 electric crossover.  It's slick, but intuitively connects devices to the bumpin' Harman Kardon audio system through Apple CarPlay, Andoid Auto, and wireless charging in the console.  Vegan leather seats are heated and ventilated up front.  Grip a leather-wrapped steering wheel, dial in the dual-zone automatic climate control, and power open the sunroof too.  Use your phone as a digital key.
Kia does not play around with safety.  Our Niro Touring came with automatic emergency braking, adaptive cruise, blind spot warning, and rear cross path detection with auto brake.  A rear seat monitor and Safe Exit Assist, which uses the blind spot system to keep passengers from stepping into traffic, go one level higher.
Beneath the stylish attire is a hybrid powertrain consisting of a 1.6-liter four-cylinder engine, batteries, motors, and a proper 6-speed automatic transmission.  Unlike most hybrids that employ a continuously-variable transmission that revs like a weedeater, the Niro drives like a normal car.  Combined output rates 139 horsepower and 195 lb.-ft. of torque for peppy urban performance.  Fuel economy, the Niro's strongest car, comes in at 53/45-MPG city/highway.  If this doesn't seem efficient enough (unlikely), there are also plug-in hybrid and fully electric versions of the Niro.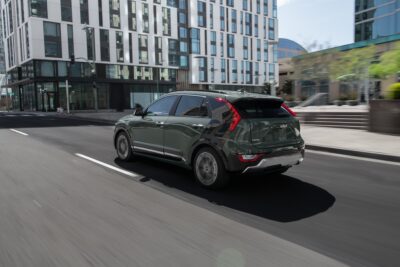 In the city or on the highway, the Niro is a sprightly little "crossover".  It only comes in front-drive, but the tight four-wheel independent suspension carves up backroads and steps unbothered over rumpled city streets.  It comes off of bridges and plants itself without drama.  Compact dimensions allow it to park almost anywhere – big enough for long distance touring, but small enough to slip through traffic and parallel park with abandon.
Kia continues to step up its game with an efficient little crossover that excels with a luxurious high-tech interior and advanced safety systems.  You and your small family can ride comfortably on long trips with devices seamlessly connected or carve a path through city traffic.  Fuel economy is off the chart and I expect the fully electric version to be even better.  A base price of $26,490 rose to just $36,435 with every option imaginable.  Competitors include the Toyota Prius, Ford Maverick Hybrid, and Hyundai Tucson Hybrid.
Storm Forward!
Send comments to Casey at [email protected]; follow him on YouTube @AutoCasey.