"The all-new 2023 HR-V enhances the lifestyle of young, active buyers with sleek new design, and a modern, roomy, and feature-rich interior."
This is how Honda press materials are pitching the new (for model year 2023) 'subcompact' HR-V, which is a rather incredible car that could work well if it's just you and your cat, small or midrange dog, average-sized partner ….. and you don't need to go a whole-lotta places very often.
I'm exaggerating, of course.  The 2023 all-new Honda HR-V is quite capable of doing everything you need a new car to do to, including taking you cross-county for that job or college interview or to see if Aunt Elenore really did leave you anything to help pay off your student loans.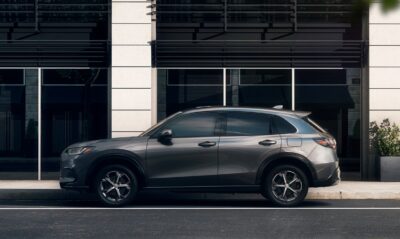 Both the Honda Civic and Accord are still best-sellers, and for good reason: they are solid, well-built cars that have both truly stood the test of time.  Wanting to capitalize on that and go even further than the already-small CR-V has gone, Honda came up with the HR-V, which is, shall we say, cozy.
Yet out of the gate, it is doing quite well. IIHS has made it a Top Safety Pick + and NHTSA has given it five stars: impressive for such a small car.
Standard features include items like 17-inch silver alloy wheels, push-button start, hill-descent control, auto climate control and Apple CarPlay and Android Auto, among other items.
Just know up front that the 2023 HR-V is IMHO very cozy.  It does seem to be getting smaller every year – or maybe I am just getting larger.  Let's go with both.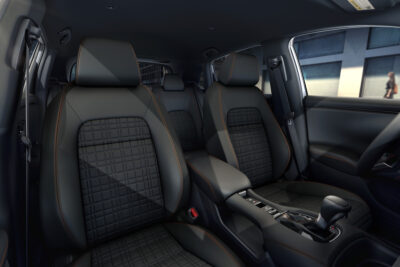 Standard is the Honda Sensing Safety package, which includes forward collision warning with low-speed braking control, lane-departure mitigation, adaptive cruise control, lane-keep assist, traffic sign recognition, auto high-beam and traffic jam assist (this can help keep you centered in your lane as you drive).
You can indeed get some cargo room inside: 24.4 cubic feet of space with the backseats up, and 55.1 cubic feet of space when you put them down, which is decent for the class.
But realize upfront that just short of having an 'athletic' build, the backseats may still pinch a bit for rear seat passengers.  But I was just fine in the front, as were my passengers.  And (how shall I say this?) we eat at a lot of steakhouses.
This is a good car. You can get into the base LX for about $23,800 US, which, as we all know, is dependent upon finding a dealer, broker or internet site who actually has one for that starting price. Average mileage is 27 mpg.
As always, please do your homework.  I know, I know.  I too hate doing my homework, even to this day.  But you have a lot of resources here at gaywheels.com.
Use them wisely.  By coming here, you already have (wink).