If you are looking for a solid small car with decent room inside and aren't hung up on luxurious appointments all around, then the 2023 Volkswagen Taos might be a match for you.
The Taos debuted in 2022 and wasn't seen right away as something worthwhile in the economy segment, but it caught on quickly, mostly because it was priced right (starting currently at $24,155 US), had decent fuel economy (now 28 city / 36 highway), and had decent space configurations.  Those assets carry over for 2023.
Know upfront that you will always get a turbo and All-Wheel Drive with Volkswagen, and that's always a good thing, no matter where you live.  That right there makes it worth your money IMHO.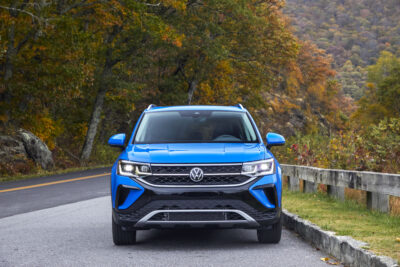 The 2023 Taos is considered a subcompact / crossover car, which means that if you are 'of size' and not someone who sees yourself in those car commercials for people who lead an 'active lifestyle'…. well, I'm not saying you shouldn't consider the Taos.  I'm just saying Proceed with Caution.
I enjoyed driving the Taos all over town.  My not-so-petite frame fit well inside and did not feel pinched.  Getting relatively large items in and out (you will have to maneuver the seats a bit when you go to the big box stores) is a breeze. Parking and angling are easy.  There really is no hassle (not much).  If your family is small, you should be okay.
Roof rails, blind-spot monitoring and forward collision warning with automatic braking are some of the other notable standard features on the base S trim.  More gems are available as you go up the line.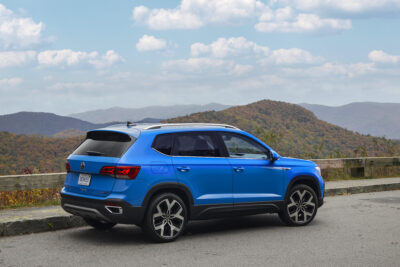 Some reviewers complain that the transmission can be a little sluggish at times, having difficulty finding the right gear when needed, especially when you are trying to move quickly.  Yes, there's a bit of that going on.  Assuming you aren't racing the car (all VWs have turbos), you should be fine.
I recently wrote about the Mazda CX-30 (which is in the same league) so you may want to consider that when you are shopping for a subcompact for getting out and about in urban LGBT areas. Assuming your day-to-day business is not a whole lot of business reportable to the IRS, the 2023 VW Taos can help you manage and accomplish what we all need to do most: just get to the next day.
Personally, I like driving smaller cars because they allow you to get in and out tight situations easily and quickly.
And anymore, life in general seems like one big tight situation.