The 2023 Dodge Hornet is one of those spunky little SUVs that really packs a punch, yet it can get you all around town safely so that you can get your errands done easily.
All the while at the same time it can make you feel like there is still a bit of kick to your engine, both inside your body and under your hood.
This little stinger is considered a Compact SUV.  And what does that mean? It can, yes,  get a little cozy inside – so know that upfront, just in case you aren't the circumference of Margot Robbie a.k.a. Barbie.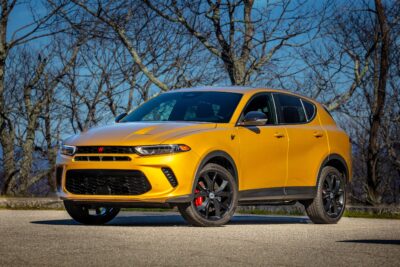 (If you're thinking you've heard of the Hornet before now, AMC –American Motors Corporation – first made the Hornet in the 1970s.)
This Hornet has the same body, powertrain and interior as the all-new gas/electric 2023 Alfa Romeo Tonale, which is built in Italy and I reviewed for another LGBT+ website: Bear World Magazine, a safe space for large men who would feel just a little pinched in the 2023 Hornet.
(For those of you who may not know fully what a gay 'bear' is, here's a good place to start, courtesy of Out Magazine.)
The Hornet is a bit pricey right outta the gate, starting at $30K US. But you will get a 268-horsepower, 2.0-liter turbo 4-cylider, which is quite peppy.  And has All-Wheel Drive.
Acceleration here is impressive. And handling is truly impressive at all speeds.
U.S. News and World Report says this Hornet has "a pinch of muscle car" to it, and I concur. I tested the GT Plus trim and, I mean, like, wow, talk about cruising Santa Monica Boulevard with Sheryl Crow (yeah, that was thirtysomething years ago…..).
To be sure, it really is powerful for such a little squirt. Throw in some great, easy-to-use tech, impressive pedestrian/cyclist detection and a great digital cluster display, all standard (to name a few), it all kinda makes up for the 'cozy' backseats.  Kinda.
Admittedly, reviews all around the web are mixed on this year's Hornet. You'll get 21 city / 29 highway miles per gallon (better mileage that what the old AMC Hornet got). There's up to 55 cubic feet of cargo space total when you fold down the rear seats. Decent for the Compact class, yes, but other cars traveling in the same lane can offer you some better economy.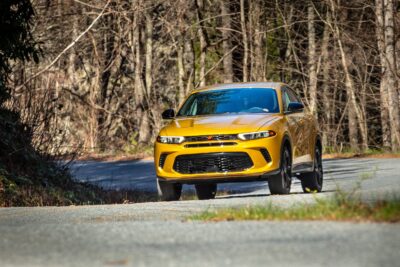 And yet…. The 2023 Dodge Hornet is a whole lotta fun without a whole lotta shakin' going on! (To be clear, no shaking it all!)
Similar cars include the Mazda CX-50, which I have tested and really like.
If it's just you and a partner or you and one dependent and perhaps a small dog or two, you should be fine with the 2023 Hornet. If your Rainbow Family is larger than that, this vehicle may not work as well for you.
And: make you sure you get an insurance quote.  Rates are going up. And up. And up, especially in states like Florida.
(Also, please think twice before you boycott places like Florida. Many LGBT++ businesses in The Sunshine State depend of us for their livelihoods.)
Life is getting more expensive as we speak. Buying designer food and looking like we just came off the set of CSI: Gay Bar used to be part and parcel of our everyday fabulous lives back during the Clinton and Obama administrations.
Nowadays, if we can just get through a Zoom meeting without having an organic egg-brie cheese-cilantro omelet on our pajamas while not looking too heavily medicated… Mission Accomplished!