We gays who are raising kids have a challenge.  How do we maintain our fabulous lifestyles while carrying about offspring – adopted or from our own blood?  My sister drives a mini-van, and while I have mad respect for that automotive breed, my husband and I want something more stylish and fun to drive.  Having the capability for at least some electric travel is a plus.  The 2024 Mazda CX-90 PHEV may be our next ride.
Having a good look in the driveway, the CX-90 is considerably more elegant than the average mini-van.  Typical of Mazda, design is in subtle chrome and sculptural forms that lend an upscale yet understated style.  It even looks German or Italian.  Stylists tried to give the CX-90 a long hood for sportier proportions, but from some angles it looks a little smooshed and tall in the passenger zone.  A wide rump and 21" wheels lend muscular attitude.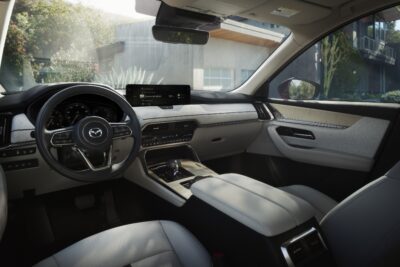 The luxury experience continues inside where passengers are greeted with plush stitched dash coverings, light woodgrain accents, and infotainment screen that appears shaved from thin glass.  Flatscreen gauges and a head-up display put critical information front-and-center.  I could do without Mazda's cumbersome joywheel controller, but it does connect devices wirelessly via Apple CarPlay or Android Auto.
That's only a start to the carnal luxuries.  Crisp Bose audio, heated and ventilated front seats, and a panoramic sunroof with opening panel elevate the experience – as do heated second row seats, heated steering wheel, and tri-zone automatic climate control.  Everything one sees or touches seems a level above the CX-90's price point.  And, anybody riding inside should be safe given automatic emergency braking, front/rear cross path detection with auto brake, lane keep assist, and blind spot warning systems.
My sister hauls three rows of full-size humans plus luggage behind the third row of her minivan, but my family would pack light because there's very little space behind the third row and nobody will want to ride back there much further than dinner.  For all practical purposes, this is a four-passenger car with a large trunk…or a two-passenger car with a cavernous cave behind them.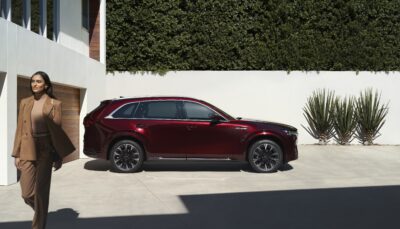 For daily errands, the CX-90 PHEV goes 26 miles all-electric before firing up the 2.5-liter four-cylinder engine to drive on until the tank runs dry.  Owners can charge 20-80% in about 90 minutes on a 240v charger or over six hours on household current, the latter easy overnight.  Fuel economy rates a frugal 56-MPGe total system or 26-MPG on gas alone.  Towing a camper or small boat presents no problem given 3,500 lbs. capacity.
And, true to Mazda heritage, the CX-90 is a fun drive on two-lane backroads to local parks.  Quick steering and a tight four-wheel independent suspension belie the vehicle's size.  A combined 323 horsepower and 369 lb.-ft. of torque feels peppy underfoot.  Other CX-90s run with a turbocharged inline-six engine, but the hybrid seamlessly sends its power to the all-wheel-drive system through a crisp eight-speed automatic transmission.
Forgoing a luxury badge nets a pretty affordable price.  The CX-90 starts just under $40,000.  Plug-in hybrids begin under $50,000, coming to $58,920 as-tested.  That's venturing into luxury pricing, but is very competitive against the Toyota Highlander Hybrid, Kia Sorento Plug-in Hybrid, Hyundai Santa Fe plug-in hybrid, and Chrysler Pacifica plug-in hybrid.
Storm Forward!
Send comments to Casey at [email protected]; follow him on YouTube @AutoCasey.