It's sleek, fuel efficient, advanced beyond belief, and imminently practical, but absolutely nobody would call the Toyota Prius beautiful.  Until now.  Looking for ways to keep the hybrid Prius relevant in an EV world dominated by Tesla, designers went back to their clay models and design programs to create a Prius that looks like a Lamborghini sedan.  That, and it's even better at being a Prius.  Check our 2023 Limited edition for proof.
All that, and it still looks like a Prius with the slope nose and high hatch profile that's become familiar.  But, it's so much more flaunting voluptuous fenders filled with 19" wheels, wings that separate the headlamps, and character lines that twist lower sills and rise into the sculptural bodysides.  Sharp creates add tension to rear fenders too.  Contrasting black roof panels and wide taillamps with drawn corners add interest.  Like an Italian supercar, you just want to stand and stare at all intricacies of the Prius' design.  Environmentalists and family men deserve beauty too.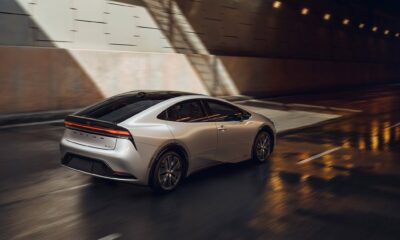 It's like riding in a sci-fi concept car from the 1980s, but much more practical.  Flatscreen gauges are set far back beneath the windshield and a wide dash top screen for infotainment are as in Toyota's bZ4X electric crossover, but a high console with flick-wrist gear selector lends a sportier feel.  You feel like you're down inside this car.  Sof-Tex vegan leather seats are both comfortable and easy to wipe clean, but are heated/ventilated in front and heated in back.
Our Limited adds luxuries like JBL audio, twin-panel glass roof, and heated steering wheel.  Connect devices wirelessly with Apple CarPlay and Android Auto.  Charge phones wirelessly too.  Safety is enhanced by automatic emergency braking, lane keep assist, blind spot warning, and safe exit assist that keeps passengers from stepping into traffic.  Owners will want for little.
Beneath that sexy bodywork is a hybrid system employing a 2.0-liter four-cylinder engine, lithium-ion batteries, and regenerative braking to deliver a peppy 194 horsepower and 52/52-MPG city/highway.  That's about 70 more horsepower than the previous generation.  Beyond fuel economy to embarrass earlier models, it zips from 0-60 mph in 7.2 seconds.  Step up to the plug-in version for 44 miles all-electric range and 0-60 in 6.6 seconds.  It's got lungs to match its looks.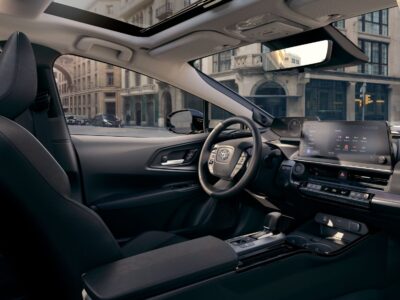 All comparisons to Lamborghini end with the car's handling, but the lower and wider stance makes this the best-handling Prius ever.  Weight from the batteries is low in the chassis for the best balance, enhanced by a four-wheel independent suspension.  Electric power steering can feel vague, but I suspect almost nobody buys a Prius for a spirited weekend drive through the country.  It's much happier whisking through city streets and slugging down Interstates on holiday, but it won't embarrass itself in the twisties either.
You no longer have to be a computer programmer, environmentalist, or frugal grandma to own a Prius (though, you'd be smart to buy one if you are).  It's become a car that art teachers, travelers, and automotive enthusiasts can also embrace.  You may buy it because it's beautiful, but will fall in love with the easy technology, roomy trunk, and stupid ridiculous fuel economy – all without a plug (unless you want one, because there's a Prius with that too).
So, what does this science-soaked art project cost?  The base Prius starts at $27,450, but came to $38,019 all-in.  Compare that to the Honda Accord Hybrid, Hyundai Elantra Hybrid, and Kia Niro Hybrid.
Storm Forward!
 Send comments to Casey at [email protected]; follow him on YouTube @AutoCasey.