One of the most affordable and best 'compact' cars you can buy, even today, is still the 2023 version of the Nissan Versa sedan.
It starts at $15,980 US (for a very basic model) and goes up to about $20K for a fancier trim that gives you a few more amenities. Works for me.
You won't win any races with the Versa, but you will get some decent interior room and trunk space (no hatchback available). Average MPG is 35, which is pretty great IMHO.
Sure, you get just a very simple little 122 horsepower 4-cylinder engine that can be a little sluggish at times…… But this is a new car you buy because you need a new car to help you get thru life as cheaply as possible.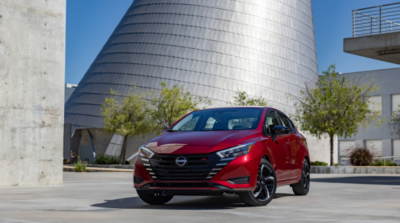 If you could afford the 2023 Mercedes Benz EQE EV-SUV (don't you just love all that Alphabet Soup!), which I just wrote about back in August, you would consider buying one.  But you probably are reading this during a staff Zoom meeting or while waiting to get something personal checked out because, well, you don't have a personal concierge who will help you with all that.
You might think you don't get much with the 2023 Versa, other than a wire coat hanger to help you when you get locked out, or a book of matches in lieu of a cigarette lighter.  Well… you would be wrong.
Push-button ignition, power windows and doors, Bluetooth, forward collision warning with automatic braking, lane departure warning, automatic high beams…. not bad for such a basic car.
 I tested the top-tier SR trim, which is $5K more. Here, you'll get some groovy little touches like a rear spoiler, leather-wrapped steering wheel, heated front seats, a dark chrome grille, fog lights and remote engine start. And keyless entry, which should be available on all Versas, but hey….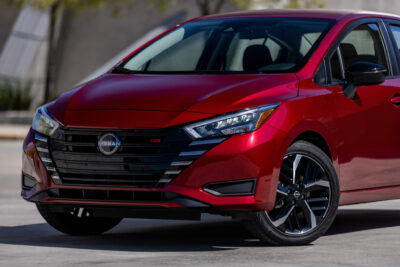 I enjoy driving all the big trucks and the primo cars. But I also truly enjoy driving the practical cars, like the 2023 Nissan Versa. Living in the city, I need the simplicity and the ease with which I can park something this practical. Plus, I get hassled less, mentally, emotionally – and physically. That alone is worth a simple car in which I can enjoy a nice simple drink (non-alcoholic, of course) while I commute.
Note: Another subcompact car that would be an excellent choice is the Kia Rio.  However: Many insurance companies are refusing to insure new Kias and Hyundais because of past problems with their anti-theft software.
Always check with your insurance agent before you buy. It's a sad state of affairs in today's climate change/insurance world that we have to do that much pre-planning.
But planning ahead is what we must now do in today's world.
And sometimes even that is not enough.  Unfortunately.