There is a lot to be said for the all-new 2023 Genesis Electrified GV70, the hot new entry into the luxury compact / crossover field.
Style. Class. Elegance. Considerable interior room for a compact car.
The starting sticker price is $65,850 US, so, well, there's that. The EPA-estimated driving range on one charge is only about 236 miles, well below the 300 that can now be attained by many electric vehicles.
But you will get more than 400 horsepower from this peppy little engine, which is quite impressive for electric cars these days. All-Wheel Drive is standard.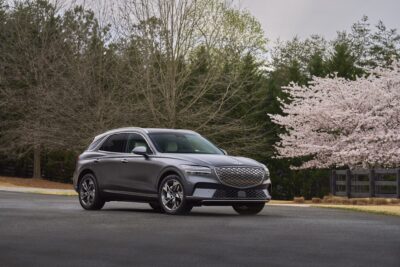 And you have to admit, it's a beautiful car.  A stunner, if you will.  I truly enjoyed driving it around town.  I felt comfortable no matter where I went, and that's no small compliment, given my not-so-ladylike frame.
The 'electrified' GV70 is not all that different from the gasoline version of the GV70, which, of course, is also a very nice car.  Essentially, there is the same amount of interior room even though two batteries are taking up space underneath the floorboards.
For all that dough, you expect some pretty standard features: leather, panoramic roof, 14.5-inch touchscreen, hands-free liftgate, 20-inch wheels (not sure why that is necessary, but, okay), digital keys (for your phones, but don't forget your other physical keys when you leave the office), automated self-parking, lane-keep assist, a 360-degree camera system (a must-have IMHO), rear automatic braking (for crap going on behind you) and adaptive cruise control….. to name a few.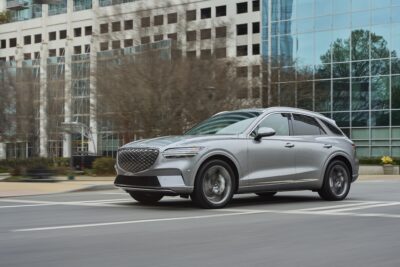 There is only one version / trim of this vehicle, but you can get the Prestige package as an add-on: higher-grade leather, heated back row seats, heated steering wheel, larger digital dashboard cluster in 3D, active noise cancellation….. ah, the Good Life.
Depending upon where you live there are still some decent tax rebates (or credits) to be had if you buy.  Still, we here at gaywheels.com want and need you to really do your homework before you buy.
We support cleaning up the environment, as President Biden wants to do.  But owning an electric vehicle requires a different type of responsibility, both physically and financially.
Make sure you are up for the challenge, and trust me, it will be a challenge.