Lexus took its own sweet time to introduce a proper electric vehicle.  While BMW, Mercedes-Benz, Audi, Genesis, and even Cadillac were introducing EVs, Lexus continued to focus on the range and efficiency of hybrids.  That may yet turn out to be smart as EVs struggle to find a foothold, but Lexus has finally seen fit to give us an EV.  The 2023 RZ 450e crossover is high on Lexus style, but a little short on range.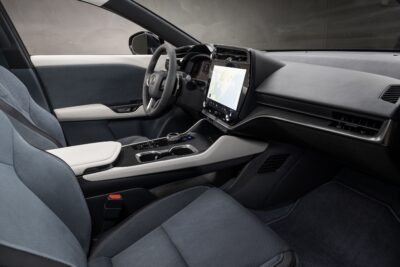 The RZ is more exuberantly styled, but is obviously a member of the Lexus family, adopting cues from the NX and RX crossovers.  Two clues to its electric powertrain are a stylized plastic facia that's shaped like the Lexus spindle grille without the grille and a little door in the front fender for plugging in.  I especially like the side sculpting and panoramic glass roof that lend a cool concept car vibe.  Squinty LED headlamps, illuminated front badge, and thin wrap-around taillamps add finesse.  It's all quite racy on 20" wheels.
Lexus is known for cosseting interiors, so it's no surprise the RZ is an exquisite place to travel.  Seats are near perfect, rendered in blue vegan suede with heat and ventilation.  Contrasting stitched cream vinyl upholsters the doors and dash.  Rear seats and the soft leather-wrapped steering wheel are heated too.  There's no glove compartment, but a deep flybridge console with armrest cubby and storage beneath holds what you need.  Then, there's the glass roof that turns from clear to opaque with the touch of a button.  A treat in Lexus models for decades, Mark Levinson audio makes any song sound fresh.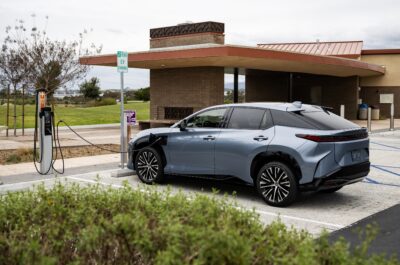 There's a lot of other technology, too.  The dash is dominated by flatscreen gauges and a 14" touchscreen for controlling navigation, audio, phone, and safety systems.  Connect wirelessly via Apple CarPlay or Android Auto while a wireless charger waits in the console to keep everything humming.  Beyond a head-up display to project speed and navigation above the hood, safety is fortified by adaptive cruise, lane tracing assist, automatic emergency braking, blind spot warning, and lane keep assist.
While the powertrain is even smoother and quieter than is already renowned for Lexus, potential luxury shoppers may be disappointed.  It's peppy enough with 308 horsepower that takes it 0-60 mph in 5 seconds, but our dual-motor all-wheel-drive version is rated for just 196 miles range under ideal conditions.  Even after a 100% recharge, I never saw even that many miles on the range indicator.  Recharge time is also long compared to top competitors.  A DC fast charger replenishes 0-80% in 30 minutes while a home or business 240v charger takes 10 hours.  That's a little too long for too little range.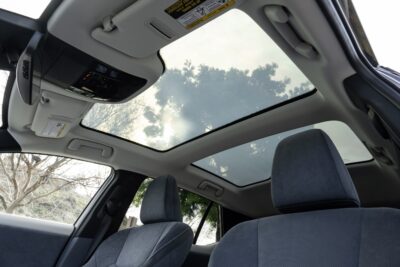 Fortunately, the RZ is a delight to drive for the miles you get.  Engineers dialed in the right balance of firmness and compliance for both deft handling and a comfortable ride.  Electric power steering can feel vague, and there's a lot of battery weight to shift in corners, but anybody who's loved a Lexus will probably love this one.  Catering to different desires, drive modes slightly adjust throttle, steering, and even climate control function for personal preference.
If the RZ was another gas-powered Lexus crossover, it would be a stunner.  And, as a city car for owners who can recharge at home or work, it's a delight.  However, limited range and longer recharge times will give pause to luxury buyers who regularly hit the highway.  When a next-generation RZ exceed 300 miles range and recharges in under 20 minutes, Lexus EVs will have truly arrived.
A base price of $59,650, or $67,095 as tested, puts the RZ 450e against the Genesis Electrified GV70, Cadillac Lyriq, Audi Q4 e-tron, Ford Mustang Mach-E, and Mercedes-Benz EQB.
Storm Forward!
Send comments to Casey at [email protected]; follow him on YouTube @AutoCasey.