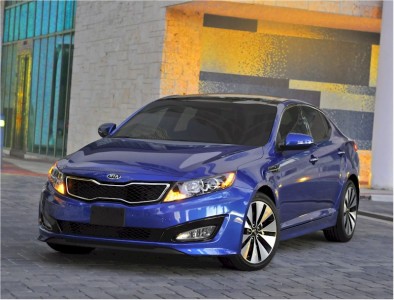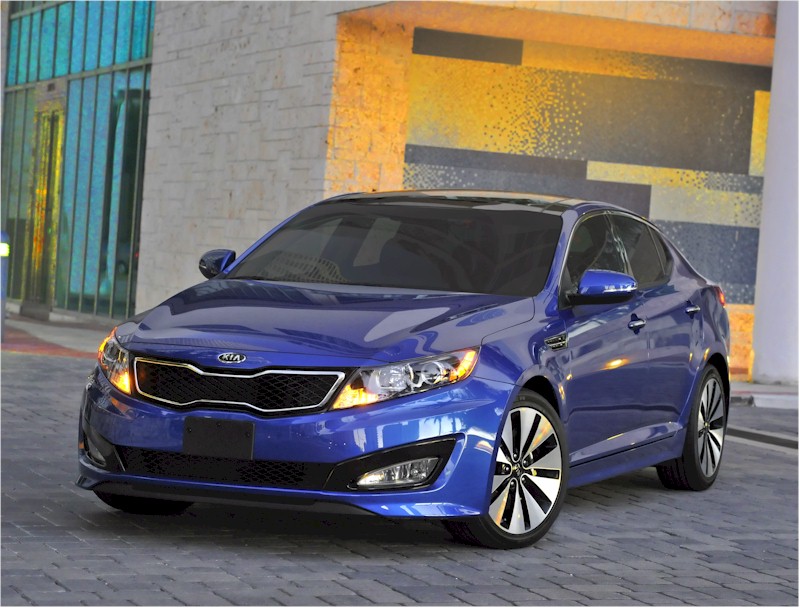 Has Kia Built the Sexiest Sedan?

Want to impress others with your automotive knowledge, but not give away your age by commenting on car trends dating to the Eisenhower era? Here's a tip: tell everyone you remember a time when Kia wasn't sexy. It's okay, because only a couple years ago the Korean automaker was synonymous with budget-priced vehicles that were good for fuel mileage and incredibly dull to look at.
Then along came cars like the new Kia Optima sedan. Sure, the urban hamsters are having plenty of fun in the cutesy Kia Soul commercials. But anyone looking for a midsize sedan with great looks and low entry-level price should check out the new Optima.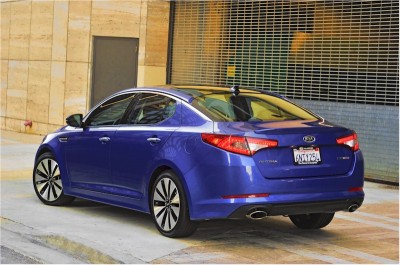 The brand's new chief designer, Peter Schreyer, formerly of Audi, has added a huge dose of German luxury car styling to Kia. This is most evident with the Optima, whose solid stance and bold front and rear end make it stand out in a market crowded with the likes of the Toyota Camry, Ford Fusion and Honda Accord.
When two parking valets told me my test car was "gorgeous," I figured Kia was onto something good. Thankfully, the Optima's driving manners live up to the sleek exterior.
The steering was direct and precise while dicing with New York City traffic, and when blasting down I-95 during a drive to Washington D.C. The suspension is set up for comfort, though the Optima never felt floaty or disconnected from the road.
My test car, an Optima EX, was in mid-range spec. The base LX starts at $19,690 (including destination charge) and comes with a 200-horsepower 2.4-liter 4-cylinder engine and 5-speed manual transmission. My Optima also came with the standard 2.0-liter, but added a 6-speed automatic and luxury items such as panoramic sunroof, heated and cooled front seats, navigation, back-up camera and upgraded audio system.
The price was a reasonable $27,440. Economy is also a strong point, with the Optima listed at 24/34-mpg during city and highway driving. Despite lead-footing the Kia to test its performance, the Optima still returned mileage figures pegged right to those EPA estimates. And with a 0 to 60 mph time of approximately 9.0 seconds, the Optima is no slouch. The car held its own when merging onto highways, or when passing slower vehicles.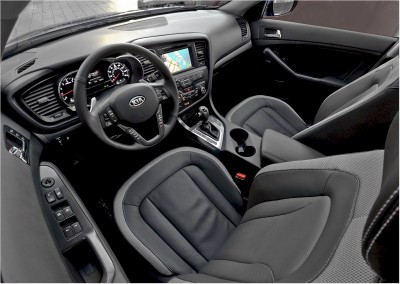 Inside you won't find the hard plastic and cheap-looking buttons of previous Kias. My test car came with leather seats and easy-to-read nav screen, along with dark wood trim and metal highlights which could fool you into thinking you're in an entry-level luxury sedan. There is plenty of room for five adults and the trunk offers a roomy 15.4 cu ft. of cargo space.
Sure, there is also the 274-hp turbocharged Optima, if you must win every stoplight grand prix. Yet the base engine feels more than adequate, and you'll save some cash. Kia will also soon offer a hybrid model. All Optimas come standard with six airbags, ABS, electronic stability control…and yes, those seductive good looks. Consider me smitten.