This year at the New York International Auto Show, the theme we repeatedly heard more than any other was fuel economy—or to be more precise, 40 mpg fuel economy. Auto makers, both foreign and domestic, rolled out a number of high-mileage cars that promise to help us all fight the pain of four and five dollar a gallon gasoline. But, there was also excitement in New York with sporty concepts and luxurious land yachts peppering the Javits Center halls. Although we've listed a small sampling of our favorites here, you can see all the cars for yourself April 22-May 1 at the Jacob Javits Convention Center. For more information, visit www.AutoShowNY.com.
2012 Subaru Impreza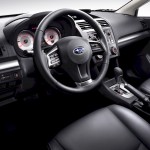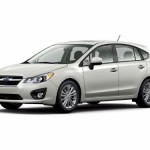 A reworked Subaru Impreza Sedan and Hatchback receive more angular sheetmetal, a much needed interior upgrade including more front and rear-seat legroom, and a new 2.0-liter boxer engine teamed to either a manual or CVT automatic transmission. That last bit of information is crucial to the Impreza's story, as Subaru is promising cars equipped with the CVT (Continuously Variable Transmission) will see 36 miles-per-gallon, making the 2012 Impreza the most fuel-efficient all-wheel-drive car in America.
2012 Volkswagen Beetle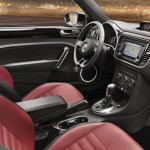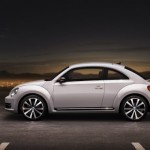 The new 2012 Beetle is set to hit VW showrooms this fall, and what a splash it will make! While still recognizable as the iconic VW coupe, the 2012 VW Beetle is a bit longer and less rounded than the last model; it's also much more athletic and muscular. Beetle fans can choose between three engines: a 2.5-liter normally aspirated engine, a 2.0-liter turbodiesel engine, or a 2.0-liter turbocharged engine (the same found in the sporty GTI.) Both manual and automatic transmissions, including VW's DSG dual-clutch automatic, will be available. Pricing has not yet been announced, but rumor has it that the 2012 Beetle will start under $20,000.
2012 Audi A7 Sportback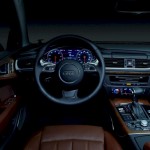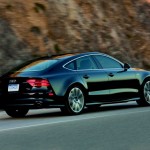 Joining the small but steady proliferation of what are being dubbed "four-door coupes", the A7 also incorporates the best attributes of a wagon as well. Surprise guest Stephen Colbert appeared on stage, partially to help launch the new car and partially to announce his collaboration with Audi in the Charleston Bermuda sailing race. All jokes aside, the A7 is a stunning car with a fastback like rear end that, though not quite as obvious as the BMW 5GT's rear, is certainly more handsome than the Porsche Panamera. Models will include gasoline and diesel engines, as well as Audi's famed quattro all-wheel drive.
2013 Ford Taurus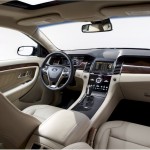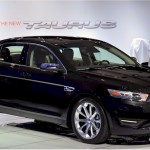 Ford continues to make small but significant improvements to its biggest sedan, proving that the company is no longer content to sit by and watch foreign competitors overtake its newest models. In addition to its standard 3.5-liter V6, the 2013 Ford Taurus will offer an available 237-horsepower, 2.0-liter turbocharged EcoBoost engine that will deliver V6-like power with impressive fuel efficiency. The addition of the 2.0-liter turbo marks the second EcoBoost engine offered in the Taurus line, the other being the 365-horsepower twin-turbocharged V6 in the Taurus SHO. Other changes in store for the 2012 Taurus include a new front fascia with electrically operated grille slats that help reduce aerodynamic drag when closed, LED tail lights, and the addition of Ford's MyTouch configurable gauge cluster.
2013 Chevrolet Malibu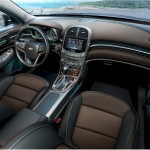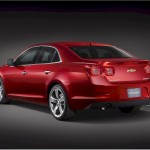 The 2013 Chevrolet Malibu is treated to a sporty new makeover that, when viewed from behind, makes the sedan appear almost like a four-door Camaro. While more curves have been added to the Malibu's sheetmetal, dash and wheel arches, the front end seems to have missed the boat, retaining a more angular appearance with strong ties to the previous model. Inside, a new instrument panel includes cool grooved bars that mimic the flamboyant old dashes from the 50s and 60s, as well as more interior room and a stunning attention to detail. We flat out love this interior. The biggest news, however, is the addition of the Malibu ECO, which uses GM's eAssist electric motor generator to assist the gasoline engine, returning an estimated 26 mpg city and 38 mpg highway.
2012 Hyundai Accent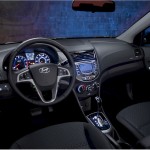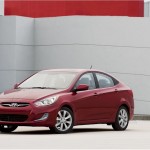 Hyundai has been on a tear lately, and the new Accent is proof the Korean car company is showing no signs of slowing down. The lightweight Accent looks great, comes loaded with features, yet will probably barely reach the $17,000 mark with all the bells and whistles. Better yet, Hyundai is promising 40 mpg highway when either the manual or automatic transmission is paired with the 138-horsepower gasoline direct injection (a first in this segment) 2.0-liter engine; figures like these also mean the Accent bests the Honda Fit, Ford Fiesta and Mazda Mazda2 in both horsepower and fuel economy.
2012 Honda Civic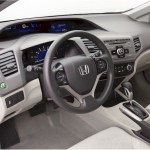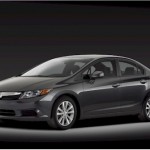 The previous Civic ran for five years with only minor changes and still looks as fresh and modern as the day it was launched. Not wanting to tempt fate, the all-new 2012 Honda Civic doesn't venture too far from the successful formula that helped make the last Civic a perennial best seller. While the basic size and shape are familiar, the exterior is now a bit more vivid, with added dimensional sculpting on the hood, trunk and sides. There are a total of seven Civic models, including the sporty Si, Eco-friendly Hybrid, and the luxurious EX; this year also marks the return of the fuel-efficient HF trim. Our own Nick Kurczewski will have a full write up on the new Civic soon, so check back for his in-depth review.
2012 Chrysler 300 SRT8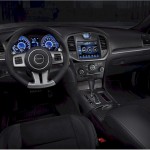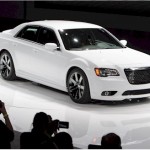 Hot on the heels of the new 300 sedan comes its sinister alter-ego, the SRT8. Still smooth and stylish, the Chrysler 300 SRT8's massive HEMI V8 engine, which is good for 465 horsepower, can rocket this big sedan from 0-60 mph in the four second range. Talk about your ticket magnet! Also debuted were two new 300 trims: the S trim is endowed with a more urban, youthful appearance, while the C Executive line is designed to be the must luxurious 300 model ever.
Favorite Concepts
Concept cars are only dreams formed in metal and plastic (and sometimes clay). But, dreams do come true, which is why we have our fingers crossed for these two concept beauties
Scion FR-S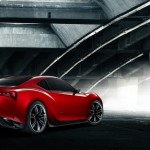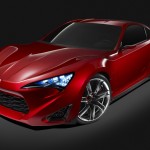 This car finally delivers on Scion's promise of a youthful, aggressive and fun-to-drive coupe that anyone can afford. The FR-S features a 2.0-liter boxer engine, rear-wheel drive and a lightweight body with a nearly 50/50 front to rear weight distribution. But it's the styling that really gets us. WOW.
Mercedes-Benz Concept A-Class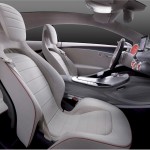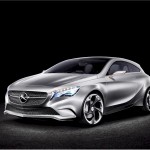 Fun, smart and small are not adjectives normally attributed to Mercedes-Benz cars, but this little concept could very well change all that. If MB does it right (and prices it right), the A-Class Concept could be the car that finally pulls in the super cool, super young buyers that have long alluded the German luxury car giant.