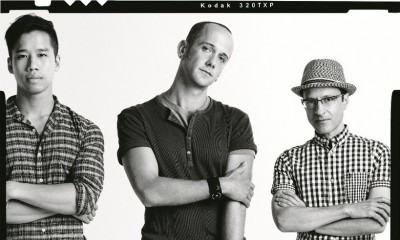 General Motors has been on a roll the past couple of years. Since emerging from a contentious bankruptcy in 2009, the company has increased profits, shown a willingness to innovate, and generated more buzz for its vehicle lineup than we've seen in ages (cf. the 2011 Chevy Camaro).
GM also remains one of the auto industry's strongest supporters of LGBT equality. The company does more than just give LGBT employees the same rights and benefits as their straight colleagues (though that's an important step, and something that other automakers like Hyundai and Kia haven't yet managed to do.) General Motors has really taken the message of LGBT equality to heart, as evinced by the touching video that its workers recently created for the "It Gets Better" project.
As another example of GM's pro-LGBT stance, we'd also point to Chevrolet's staunch support of Glee. Cynics might say that Chevy's sponsorship of Glee is solely a marketing ploy, meant to reach the show's young, eager audience. But without advertisers like Chevy, of one of the most LGBT-inclusive programs in the history of network television might not have made it past its first few episodes. Having a TV show like Glee that offers positive messages to gay teens would be important at any time, but it's doubly so today, when stories of suicides among LGBT teens continue to litter the headlines.
Now, Chevy's more conservative sibling, Buick, has signed on as the presenting sponsor of the OUT100 for the second year in a row. If you're not familiar with the OUT100, it's OUT magazine's salute to the 100 most inspiring, influential people in politics, entertainment, design, and other areas. The OUT100 includes a large print and online campaign honoring these role models, culminating in a celebratory event held this Thursday, November 17 at the Skylight Soho in New York City. (Sorry, y'all: it's invitation-only.)
Buick features prominently in most of the advertising for the OUT100, and company reps will take center stage Thursday night as they present Daniel Hernandez with the 2011 Buick OUT100 Humanitarian Award. Hernandez is the intern credited with saving the life of U.S. Representative Gabrielle Giffords (D-AZ) back in January, and this year's OUT100 celebration is dedicated to him.
Buick deserves kudos for stepping up to the plate and supporting this important event for the LGBT community — though the relationship between Buick and OUT isn't exactly one-sided: the OUT100 gets a sponsor, and the Buick name gets put in front of thousands of LGBT shoppers. We don't have demographic info on OUT magazine's readership or the attendees of the OUT100 event, but we'd guess that they skew toward the young side. That's very attractive to Buick, since the company has been working overtime to draw younger drivers to the brand. (Sadly, that Tiger Woods thing didn't work out so well.)
If you're so inclined, you might drop a quick email to Nick Richards, group manager for Buick communications, and thank him for the company's support of LGBT equality. And if you have a few minutes more, have a look at some of this year's outstanding OUT100 honorees.