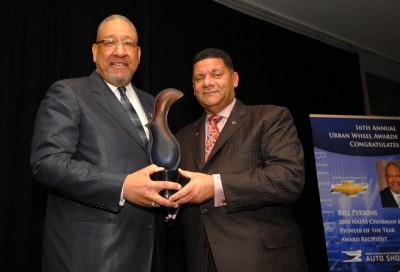 A couple of weeks ago, I was fortunate enough to land an interview with Eric Peterson, General Motors' Vice President of Global Diversity. Despite the fact that he was very busy and that we were in the middle of the 2012 Detroit Auto Show — literally in the middle: we chatted at a table between two GMC displays — Eric gave me nearly half an hour to ask questions about GM, its brands, and the company's views on LGBT employees and customers.
Here are some of the high points of our meeting.
The role of diversity at General Motors
Peterson is a big believer in workforce diversity, and not just because it's part of his job title. Speaking of General Motors as a whole, we talked about the creative, productive environment that the company tries to foster through its employees: "Diversity and inclusion, it's really been part of our DNA — whether it's in the LGBT market, or whether it's ethnicity, women, what have you." (For specifics on Peterson's efforts within General Motors, check the "diversity" section of GM.com.)
The HRC's 2012 Corporate Equality Index
General Motors typically earns high marks on the CEI, but this year, the automaker's score slipped to 85 out of a possible 100. After we ran our post on HRC's 2012 rankings, Joe LaMuraglia, GM's LGBT Liaison for Communications, contacted us to say that GM was aware of the situation, which may have resulted from changes to HRC's scoring criteria.  He and other GM team members were looking into it.
By the time the Detroit Auto Show rolled around a few weeks later, the GM staff had reached more solid conclusions. Specifically, Peterson attributes the 15-point slippage to protections for GM's transgender employees — protections that do, in fact, exist, but need to be more clearly articulated to meet HRC standards: "We have the appropriate coverages in place, but they aren't stated very specifically, within all of our benefits… And that's being corrected." Peterson said that he has already met with GM's employee resource group to discuss ways in which the company can rectify the situation.
Protections for employees at dealerships
Protections for corporate employees are one thing, but I wanted to know if  there were any protections for LGBT employees at General Motors' network of dealerships. Is there any stipulation in GM's contract with dealers that prohibits discrimination against LGBT staff?
Peterson responded that GM's anti-discrimination policies apply to a wide range of employees — from white-collar to blue-collar, from hourly to salaried. Unfortunately, there's nothing in GM's sales and service agreement with dealers to force those outlets to adopt such policies.
The problem, he explained, is that GM dealers aren't franchises, they're individually owned and operated companies that contract with GM to sell its products. In that sense, dealerships are a little like department stores that contract with Calvin Klein to carry the company's underwear: the dealer is an authorized outlet for GM sales, but it's not technically part of GM.
However, Peterson said that GM trains dealers "to respect all people who walk through their door, regardless of sexual orientation, ethnicity, gender" and so on. We'd imagine that such policies are gradually improving, as more dealers go through training programs like the one GM recently launched at Disneyland. Still, though we're not lawyers, we'd be surprised if GM couldn't drop something into its sales and service contract that stipulates LGBT non-discrimination policies. Plenty of municipalities have such regulations in place, so why not corporations?
Marketing to LGBT consumers: Buick takes the lead
I asked Peterson if GM had identified particular brands or vehicles that were being targeted to LGBT consumers. He prefaced his response by saying that every customer is different, and that interests vary based on region, income, and other factors. However, GM has a finite number of advertising dollars, so it regularly challenges its four brands to focus their marketing efforts on key demographics.
Buick very quickly identified the LGBT community as a good match for its products. It's more upscale that Chevrolet, a bit more expensive, and it recently unveiled some very stylish new rides (including the new Verano and the Encore SUV). Given Buick's renewed efforts to attract younger customers, aiming for LGBT shoppers — which are, like it or not, often considered trend-setters — could be a way of achieving that goal. Expect to see Buick at the center of some hip, new, gatherings for influencers in 2012, kind of like the parties we saw in 2010 for the Buick Regal.
Why Buick and not Cadillac? They bear a number of similarities, after all. The simple answer is, Buick asked before Caddy did. That doesn't mean that you won't see Cadillacs at LGBT events, but they'll probably be fewer and further between, since each brand has to focus its marketing efforts.
Parting shots:
Peterson's favorite reveal of the 2012 Detroit Auto Show?
The Cadillac ATS. He was particularly happy to see it take place at the College for Creative Studies, which has produced scores of students who've gone on to work at GM. (In fact, over 20 of them worked on the ATS.) Peterson sees the ATS as Cadillac's first truly competitive entry-level vehicle. Expect to see it in showrooms during the third quarter of this year.
The future of Pontiac
When GM whittled down its family of brands from eight to four, Pontiac was the only marque that never went up for sale. Performance junkies miss loud, proud models like the Pontiac G8, so I asked if there were any chance of Pontiac being dusted off one day down the line.
Peterson explained that because of today's competitive market, there's not the sales volume to feed any more "kids". In fact, thanks to its leaner, meaner focus, GM is now selling more vehicles with four brands than it did with eight. So although he wouldn't say "never", it's unlikely that we'll see Pontiac return anytime soon.
European developments
More than one of our readers asked about GM's European plans. Peterson admitted that although it wasn't entirely his area of focus, he could say with certainty that Chevrolet would have a significant presence across the pond and that Cadillac will grow — in fact, the ATS may be front and center in that market. Unfortunately, although Buick's doing very well in China, there are no plans to hype the brand in Europe, and of course, GMC's big, brawny silhouettes will remain on this side of the Atlantic. And don't forget Opel: it's also a significant seller for GM, too.
Stay tuned: we've got one more interview from the 2012 Detroit Auto Show. This one comes from a chat with Adam Bernard, the Chair of General Motors' People Like Us group (aka the "PLUS group"), GM's "affinity group for direct, contract and retired employees of GM Corporation, its subsidiaries and affiliates, in support of Lesbian, Gay, Bisexual and Transgender (LGBT) workplace equality".