Let's get this out of the way right up front: the 2012 Chevrolet Volt is an amazing ride.
Haters may gripe about the price (we'll get to that in a minute), or they can complain about the loans that Chevy's parent company, General Motors, received from the Bush and Obama administrations in 2008-09 (been there, done that, get over it). But there is absolutely no denying that, in many ways, the Volt is flat-out brilliant.
Perfect? No. But remember this is the first-generation Volt we're talking about. And the kick-off has been impressive.
Conventional or cutting-edge?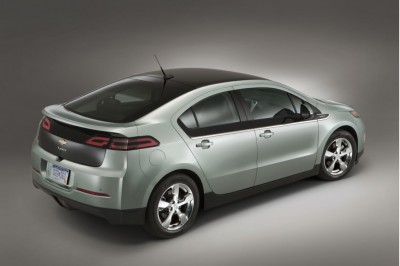 At first glance, the Volt appears to be a straightforward compact sedan. Yes, the blackouts along the base of the side windows give it a distinctive look, and the wraparound tail lights are unique. But if you squint and check out the Volt's silhouette, its profile isn't too different from the competition.
And yet, the Volt made more heads turn than almost any other car I've driven (with the possible exception of a 1976 Corvette Stingray that my dad bought during his midlife crisis).
In parking lots, people approached me and asked, "Does that run on batteries?" And after I explained the Volt's ingenious powertrain, they followed up with more questions.
Here's the dialogue I had with my father, who's long past that midlife crisis, BTW:
Me: So, technically it's an electric car.

Dad: But you put gas in it, too?

Me: Yes sir. (Note: I still say "yes sir" and "no sir" to my father. Southern upbringings are hard to overcome.) You can travel about 40 miles just on electricity when the battery's fully charged. When the battery charge runs out, the gas kicks in.

Dad: Do you have to pull over and re-start it?

Me: No sir, it happens while you're driving. Unless you're listening, you probably won't even notice it. That's because the gas doesn't actually power the wheels; the gas powers a generator that juices up the battery. So you're always, always, always using the electric system, and electric motors are always, always, always moving the wheels. The only thing that changes is that sometimes, those motors are powered by energy stored in the battery pack, and sometimes, those motors are powered by energy sent to the battery pack from the gas generator.

Dad: Oh…. That's pretty cool.
Which is the reaction I got from most everyone when the lightbulb clicked on.
My dad was far less confused by the interior. The wraparound compartments for driver and passenger are tasteful and sleek. Even the plastic elements look shiny and expensive. In place of a fuel gauge cluster, the Volt has a display screen offering loads of info about battery charge, gas levels, and such. There's an eco-monitor, too, showing when you're driving "green" and when you're not. Just another way of gamifying modern life, I suppose.
My car arrived with the Premium Trim Package, which was $1,395 very well spent. Boasting leather seats and a leather-wrapped steering wheel, it was hard to tell the difference between the Volt and a luxury model.
It also came with a high-end entertainment/navigation system ($1,995), Bose speakers ($495), polished aluminum wheels ($595), and the Rear Camera and Park Assist Package ($695), which, frankly, I never used. Then again, I've lived most of my life in New Orleans, where parallel parking is a way of life.
New standard equipment for the 2012 model is a passive-entry system that makes getting into the car — even lifting the back hatch — a stone-cold breeze.
The downsides
I don't want to give the impression that the Volt is entirely without flaws.
For starters, as much as I love the swanky interior — including the rear bucket seats — the exterior design isn't for everyone. It feels a bit chunky, a bit "American sedan", but of course, that's GM's MO. If Chevy had let me take a stab at it, I'd have done more to connect Volt's rear end with the rest of the car. As it is, it feels as if everything in front of the C pillar belongs on one model, everything behind it belongs on another.
I'm not entirely sold on the Volt's infotainment system, either. In lieu of buttons to control the radio, DVD player, a/c and such, the 2012 Volt has a flat, plastic panel with text labels, just as the 2011 model did. That panel controls a lot of stuff, so at first glance, it's a bit overwhelming. Plus, I was never entirely sure that my touch was registering through the plastic, so I found myself looking up at the telematics screen for verification. In parking lots, that was no big deal, but on the road, it was distracting.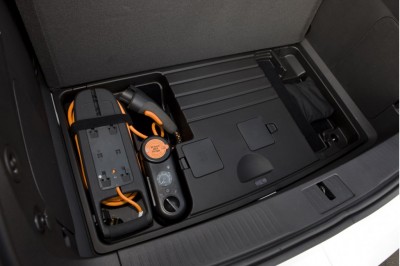 (On the upside, though, the Volt's touchscreen was very responsive — a huge plus. And the 2012 Volt offers GM's MyLink, which allows you to stream music from your smartphone via Bluetooth. Score.)
Another ding: I noticed a fair amount of cabin noise while driving. It wasn't coming from the engine, obviously, nor was it due to the wind whipping by, because on smooth stretches of pavement, the Volt was extremely quiet. But on rougher surfaces, I could definitely hear a big difference. The suspension was great — in fact, the Volt was spectacularly comfortable to drive — but perhaps some acoustic dampening material like that found on the Volt's cousin, the Cruze, would be in order.
And then there's the price. The Volt starts at $39,995, which is no small sum. Even with a $7,500 tax credit from the federal government, it's a fairly pricey car — far pricier than the gas-sipping Toyota Prius to which it's often compared. That's not exactly a fair comparison, because the Volt makes for a much more pleasant driving experience, but if you're the type to dollar-cost-average your fuel economy, I suppose it's valid.
And of course, keep in mind that Chevy's pretty adamant that you fill up the Volt with premium unleaded.
All that being said, if you're in the market for a near-luxury sedan and you enjoy being a bit fashion-forward, put the 2012 Chevy Volt on your short list. You'll turn heads and save cash in the long run, too.
2012 Chevrolet Volt
Pricing: From $39,995
As-tested price: $45,170 (including destination)
Incentives: $7,500 federal tax credit, subject to eligibility
Fuel economy (gas only): 37 mpg city/hwy
Range: 35 miles (battery only); up to 379 with gasoline
Powertrain: 16-kWh lithium-ion battery pack + 1.4 liter gas engine
Drivetrain: Front-wheel drive
Gasoline: Premium only
Passenger capacity: four
Charge time: 10-12 hours at 120V; 4 hours at 240V
Comparable cars: None, though the Toyota Prius, Nissan Leaf, and Lexus CT 200h are often mentioned