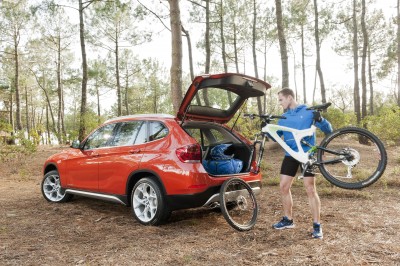 BMW's new X1 crossover wagon is supposedly the entry-level Ultimate Driving Machine for the upward-striding NQR40s (that's Not Quite Rich, Under 40). The car starts at $30,650 without destination, but when our tester arrived, it stickered at $44,245! Hardly cheap. But, I'll show you how to get a great little Bimmer much closer to the magic $30k threshold and put some cash back into your skinny jeans fund.
The BMW X1 has plenty of handsome style, and it got loads of attention in all parts of town. I was actually surprised it garnered so many second looks because to the untrained eye it seems like an X3 that was sat on by an X5. Our car's M Sport Line package included 18" alloys and aggressive ground affects. Quad headlamps, a tall kidney grille, and a "Hofmeister kink" in the windowline made it très, très BMW.
On first glance, it's hard to complain about the interior, either. But tap fingernails to surfaces and you quickly discover where BMW cut costs on this wee wagon. The doors and dashtops are plushly padded, but almost everything else is hard, hollow plastic. Close the glovebox and you'll look for a Tupperware emblem. Over bumpy roads, all of that hard stuff rubs together like Mickey and Minnie doing the dirty — way too much squeaking.
The heated leather seats are divine: luscious BMW softness with thick bolsters and extendable lower cushions. I'd dish out more for those. All of the expected technology — iDrive, navigation, CD audio, satellite radio, auto wipers, Bluetooth, USB, and Panoramic moonroof — is delightful. Open the hatch and throw down the seats. There's plenty of room for all you do.
Under the hood, the base 240 horsepower 2.0-liter turbo engine shows spirit. Enthusiasts could step up to the 300 hp six-cylinder, but that costs unnecessary money. Both engines connect to paddle-shifted eight-speed automatic transmissions. Activate the engine's start/stop function and you'll see 24/34 mpg city/hwy. Given its performance, the X1 is cheap to feed.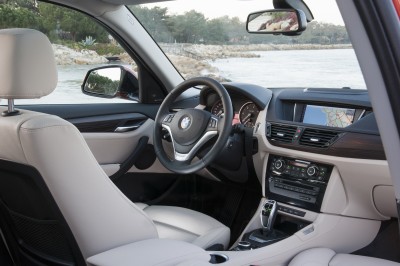 Regardless of price, the X1 drives like a BMW. A blindfolded Amish farmer would know he's in one. Chassis motions are firm yet damped, the Servotronic steering matches effort to speed, and the four-wheel discs grip like RuPaul's weave. sDrive means no AWD, but you don't really need it. The resulting lightness from not hauling the extra hardware makes for a better driving experience anyway.
So, how can you lower the X1's pricetag? I'd start by killing the $2,500 Technology Package (everything comes in a package) that includes navigation, voice-commands, and traffic updates. Buy a Garmin.
Next, goes the $3,950 (!) Premium Package with universal garage-door opener, keyless entry, auto-dimming mirrors, power seats, and panoramic moonroof. (I'll miss that one, but for $3,950? Buh-bye.) Bid farewell to the $1,200 lighting package with Xenon headlamps and ambience illumination, too. Same goes for the $950 Driver Assistance Package and its rear-view camera and parking beepers. I like the M Sportline package, but for $3,000, auf wiedersehen!
I'll keep the heated seats ($500) and Servoronic steering ($250). They're not luxuries. All told, that brings the price to $32,645 – not bad for a sweet driver's car that leaves a plump piggy bank. Work on the plastic and nobody will call it cheap.
Storm forward!
2013 BMW X1 sDrive28i
Five-passenger, RWD wagon
Powertrain: 240hp 2.0-liter Turbo I4, 8-spd automatic transmission
Suspension f/r: Ind/Ind
Wheels: 18"/18" alloy f/r
Brakes: disc/disc fr/rr with ABS
Must-have features: Utility, performance
Fuel economy: 24/34 mpg city/hwy
Assembly: Leipzig, Germany
Base/as-tested price: $30,650/44,245