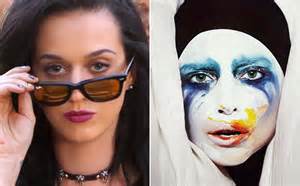 Currently dominating the world of music pop culture are two artists whose approach to writing songs, devising their own sense of personal fashion and hair color could not be any more different. We speak of course of Lady Gaga, the Queen of the "little monsters" who take pride in their weirdness, and of course Katy Perry who is the quintessential pop star girl next door. Her songs are about learning from past mistakes and personal empowerment whereas Lady Gaga talks to those who feel disenfranchised by a Katy-fied world.
Now as we are pop culture and car obsessed here at Gaywheels.com, this begged the question in our little minds: between the 2014 Honda Accord Plug-in Hybrid and the 2014 Chevy Volt (also a plug-in hybrid) which one is the Katy and which is the Gaga? The answer may surprise you given the fact that Honda is known for building occasionally wacky, left field cars and GM has for decades stood fiercely for the status quo. But yes, dear readers we are about to say it. The 2014 Chevy Volt is Lady Gaga down to her trailblazing core and the agreeable, low maintenance Honda Accord Plug-in Hybrid is the Katy Perry. Now, who do you prefer? Katy or Gaga? GM or Honda? Let's try to help you decide.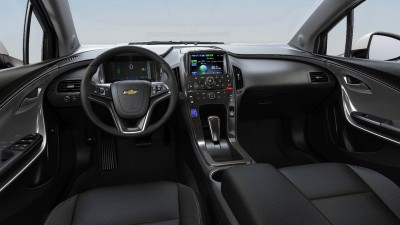 The Chevy Volt was a Revolution when its unique design was "Born This Way" in 2007
Now we aren't saying that Lady Gaga and Katy Perry have built in battery packs and plug-in socket to keep going but given their insane schedules we wouldn't be all that surprised. First off, let's give a heady round of "Applause" to the 2014 Chevy Volt which is a car that sparked a conceptual revolution in how automakers build and power their cars. It was an explosive concept when GM first unveiled the Volt years ago, taking the successful yet safe Prius hybrid formula a step further.
Now, you might think this idea would be a "Bad Romance" of some sort, the Volt mates full electric car capabilities with its ability to travel an estimated 38 to 50 miles on a fully charged battery with a 1.4 liter gasoline powered engine acting as a range extender which can act on its own or in conjunction with battery assistance. The 1.4 liter gas engine puts out 85 horsepower whereas the electric lithium ion batteries pump out the equivalent of 149 horsepower/273 lb. feet of torque which are impressive figures indeed. So while the Volt has a practical range of over 380 miles, this eco-friendly car can accelerate like a bad ass when it wants to. You know, in case you are trying to evade the "Paparazzi."
Our only qualm with the decidedly Gaga-esque design of the Volt's exterior and interior (that's a complement from us as we found it both stylish and experimental at the same time) is that this car is a strict four-seater which may mean you have to choose between if both "Alejandro" and "Judas" can ride along with you. We aren't sure you would want to however as we doubt they would get along. Both the Volt and Accord Plug-in do qualify, however, for driving alone in the carpool lane so no need to set-up a carpool with annoying co-workers.
What truly amazed us about the Volt after so often being disappointed by the driving experience in most "green" cars like the Prius and Leaf was how entertaining it was to drive no matter how it was powered. Thanks to all those batteries and high-tech powertrain equipment residing under the car, the center of gravity for the Volt is pleasingly low leading to great cornering and the steering offered up an amazing level of feel for a car running on low profile fuel efficient tires.
There are also different settings like "Sport" and "Mountain" which adjust power output based on driving conditions. That and the Volt's far cooler, cutting edge interior style mean that this Lady Volt is truly on the "Edge of Glory" should it finally get full five passenger seating. As a car the Volt is much more than a one trick pony who once wore a dress made out of beef jerky. Frankly, we can't wait to see the next generation Volt which we think is poised to take the place of the Prius as the American family car of choice. And that you can tell all of your friends on the "Telephone."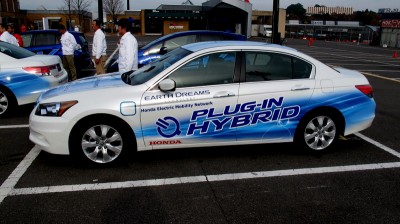 The 2014 Honda Accord Plug-in Hybrid Really "Roars"
As the car company that was the first to build a mass produced hydrogen powered car, it surprised many that it took Honda a while to get its own plug-in hybrid to the marketplace. But Honda's engineers have always been "Wide Awake" as I learned when I drove a very early prototype of the Accord Plug-In at their Twin Ring Motegi race track in Japan over three years ago when it impressed me despite a few refinement issues. Back then, the lead engineer on the project asked me to not judge his baby yet and when we met again a few years later at the launch of the full Accord line he remembered me and asked yet again for me to not pen my review until I drove his fully completed production model. I agreed and keeping my word has always been a "Part of Me," much as tireless perfectionism is a part of every Honda engineer's personal credo.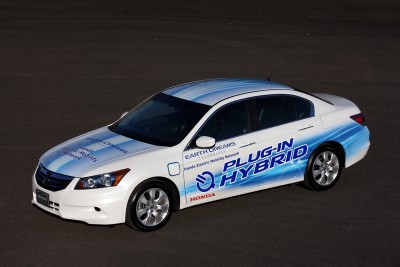 Driving the 2014 Honda Accord Plug-in Hybrid is much like driving any other Accord sedan meaning it handles with a balance and lightness not seen in many competitors, the steering is light yet entertaining and refinement as the 2.0 liter 141 horsepower engine and 55 horsepower battery output. This makes the Accord Plug-In Hybrid operate somewhat differently from the Volt but never does this fact makes you need to love its quirks "Unconditionally" like some sort of automotive "Dark Horse."
It just means the car operates in three modes first of which is all electric for up to 13 miles and recharges as the car is on the move as well through regenerative braking. Then it can operate as a hybrid when you need full blast power with both powerplants offering impressive power for any situation. Lastly, it also can operate with the gas engine only when the car is at a steady cruise charging the battery. When an engine is relaxed at a steady cruise is when it returns optimal efficiency so it makes sense. Wow, three cars in one? You must think it's your "Birthday" and Honda has given you something good to celebrate.
During our time in the Accord Plug-in Hybrid we managed with a fully charged battery and a full tank to travel 520 miles until we were almost on fumes which is an impressive range. In fact, one might just call it a "Teenage Dream" for any eco-minded individual. Sorry, we just had to do that last one.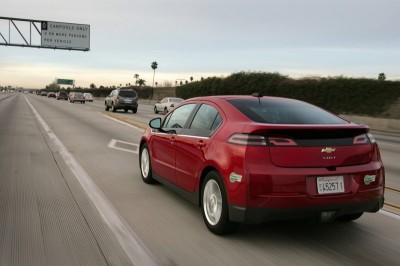 Who Has the Staying Power and Who Will Become a Has Been?
The 2015 Chevy Volt has an electric efficiency rating of 98 MPGe and gets 35 city/40 highway from the gas engine. We had no problem reproducing Chevy's claims as far as getting over 300 miles from a full charge and tank of gas. We got 348 miles from one such endeavor which no range anxiety like in a Nissan Leaf. We also weren't driving a car that stylistically screams "I am a dork and don't know it" which is always nice.
The gas tank in the Volt is also smaller than the Accord's (as is the cargo hold) at 9.3 cubic feet but it gets the job done. But then the Volt's trump card is that before government tax credits its base price of $34,170 is about 5 grand less than the Accord Plug-in Hybrid. Granted the price rose to a little over $37,000 when we added leather seats, navigation, back-up camera and a Bose Audio System upgrade that is 50% more lightweight than usual Bose systems at no cost to sound quality.
The Accord fights back with electric efficiency 115 MPGe and gas efficiency 47 city/46 highway with a 12.7 gallon fuel tank, overall range of 570 estimated miles as well as the ability to run on regular unleaded (the Volt requires premium). There is also the not so inconsequential matter of this being otherwise a very ordinary Accord meaning it has an immensely roomy, five person interior albeit with a shrunken 9.6 cubic foot trunk which is smaller than the Volt's by about one cubic foot. So frankly, neither of these cars is a loser in fact they are both amazing in their own ways.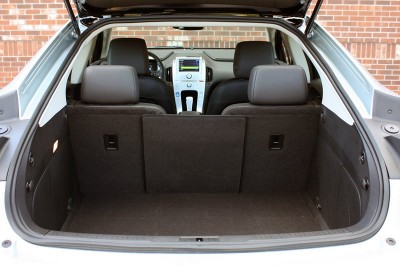 You just have to decide if you prefer the Volt's unique futuristic style over the Accord's more low key, practical approach. Kind of like choosing between listening to your Katy Perry or Lady Gaga playlists and don't lie and say you don't have them. Just remember that green cars with this much flexibility require some compromise but take heart knowing they are usable as only cars unlike is realistically the case with any electric only car.  Maybe you want battery packs that are the size of a can of pringles? Find a time machine and fast forward to the year 2025 and that will most likely be the case but as for right now these two are the state of the Green car art. Also, if you do time travel to 2025 could you bring back Lady Gaga and Katy Perry's latest greatest hits anthologies? We are impatient and don't want to have to wait for their next albums. A boy can dream.