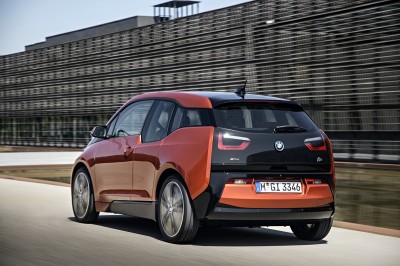 BMW's revolutionary i3 looks like it rolled out of a futuristic sci-fi flick like Demolition Man or Back to the Future. While it still needs roads, the sucker's electric. Mostly, until it kinda isn't. Confused? Yeah, well, let me explain.
The i3 is first and foremost an electric car, ideal for cities with well-developed charging infrastructure – available in all-electric and the range-extended version with a backup gas engine. I drove the all-electric version in L.A. last spring, letting it wash over with waves of instant torque that gives you happy-happy joy-joy feelings. The extended-range version goes further.
Plug it in for four hours (240v) and the Lithium-Ion batteries return 72 miles of range (80-100 miles for all-electric versions) and direct the electric motors to deliver 170 horsepower and 184 lb.-ft. of torque to the rear wheels. After that, the 0.65-liter two-cylinder engine fires up for an additional 50 miles or so – enough to get you to a charging station, but not necessarily cross-country.
EPA figures grant the i3 117-MPGe in electric mode and 39-MPG burning gas.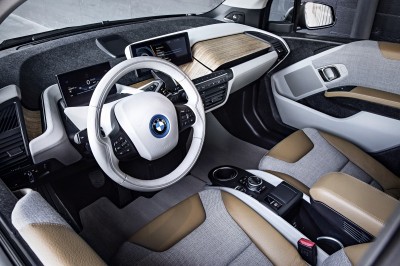 I've had range anxiety while driving electric cars, but never with the gas engine running. Trips beyond plugs should be well planned. Check the look on the gas station attendant's face when you fill up with a whopping 1.5 gallons. Yep, that's about what it takes. After a few hours on the Interstate, my wallet looked like Sgt. John Spartan's cuss box.
But, it's not just that. Roll onto the freeway at full tilt and you'll whoosh up to speed, but deplete the batteries quickly, leaving the 2-cylinder engine keeping pace. After setting the adaptive cruise at 70 mph, the i3 cruised at more like 65 mph. Just stay in town and you'll love it.
Like the exotic i8 supercar, the i3 uses copious amounts of weight-saving carbon fiber in the body, seen exposed in the doorsills. But, it's an unrivaled stylistic endeavor that reshapes the commuter car with an aero-tuned boxy shape branded by a stepped down rear windowline, quad headlamps, 20" alloys, and flush taillights. Futuristically elegant!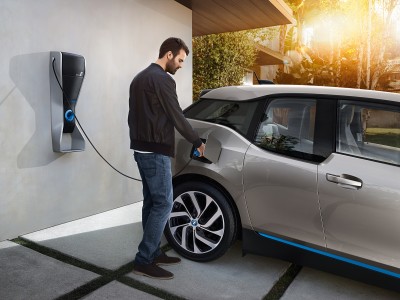 Pop the door to find an interior beautified with curved open pore eucalyptus wood, stitched leather, and exposed fibers paneling the dash and doors. It feels and looks expensive in a modern loft sort of way. An LCD instrument cluster and floating infotainment screen with BMW's iDrive agree. Additional comforts come from heated seats, automatic climate control, rearview camera, forward collision warning, and premium audio. After you figure out the gear selector (it twists), it's easy to drive and a joy to be within.
For a car with 20" wheels that are about as wide as a fat bicycle's, the i3 can be tossed into a corner without much drama given a firm, yet compliant, suspension with battery weight low down in the chassis. Its rear-engine puts power over the right wheels. The i3 is a BMW, and while it redefines the concept of a performance car, it performs nonetheless.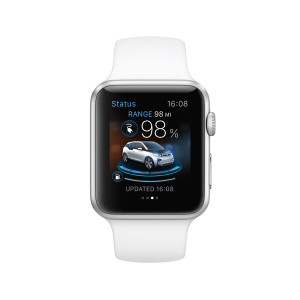 All this car really needs is an engine about 50% larger and 8-gallon gas tank. That would be enough to cruise at 80 mph comfortably, haul carbon through the mountains, and provide 250+ miles of relaxation when heading across open prairie. But, that wasn't really BMW's aim. It's a city car that helps you find your place in the future.
Buy an all-electric i3 from $42,400, or range-extended version from $46,250. Our test car came to $54,500, making it competitive with the Chevy Volt, Cadillac ELR, Nissan Leaf, and Ford C-Max Energi.
Storm Forward!
Follow Casey on YouTube and Twitter. (You can find Casey's review of the all-electric version of the i3 here.)
2015 BMW i3
Four-passenger, rwd 5-door
Powertrain: Li-ion batteries/motor (170hp), 0.65-liter 2-cyl (38hp)
Suspension f/r: Ind/Ind
Wheels f/r: 20"/20" alloy
Brakes f/r: regen disc/disc
Must-have features: Style, Performance
Elect. driving range: 72 miles
Additional gas range: 50 miles
Top speed: 93 mph
0-60 mph: 7.8s
Fuel economy elect/gas: 117 mpg-e/39 mpg
Base/as-tested price: $42,400/54,500