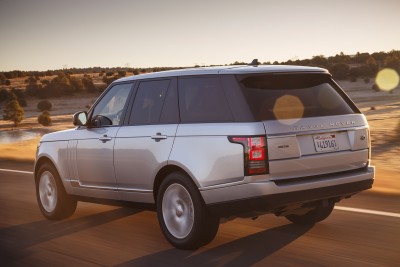 If you're upwardly mobile, or simply royal and looking for an SUV to survey your 'hood, it's tough to beat a Range Rover. It's like a jacked up Jaguar XJ that laughs at snow, mud, and small rivers – or potholes and steep driveways. QEII drives one. So does her grandson. But, this Range Rover is more likely to be driven by enviro-friendly Prince Charles than his mother.
If money is no object, get your palatial Rover with the available 510 horsepower supercharged V8 engine. It can shove the big truck from 0-60 mph in 5.1s on the way to a 155 mph top speed. It's divine, but what about a diesel? Not luxurious? Climb down from your loft and open the bonnet.
There you'll find a 3.0-liter turbo-diesel V6 engine connected to an eight-speed automatic transmission. It may not rival the mighty supercharged V8, but 254 horsepower and 443 lb.-ft. of torque provide pushing acceleration. Tap the throttle and it raises up and moves out like a small jet beginning its roll, running 0-60 mph in 7.4s. Start/stop technology is super annoying as it pauses the engine at rest, but enables an impressive 22/29-MPG city/hwy. It's OK to be frugal even if your bank account says you don't have to.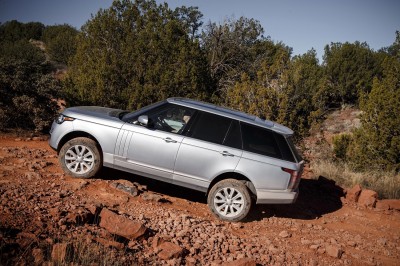 But, a diesel? Aren't they loud, smelly, and generally as nasty as fry grease? Not in a Range Rover!
It takes a mighty cold morning to hear it rattle, and then only momentarily. During my first drive, I was just cruising along listening to my favorite music noting how smooth it was. Then, I reminded myself I was sitting behind a diesel engine. It does nothing to diminish the solitude of riding inside.
Heated and ventilated seats soothe winter souls or cool summer derrieres. A heated steering wheel sounds ridiculous until your numb wind-chilled hands grip it early in the morning. Rear passengers get their own high thrones with heat, climate controls, and video screens. Beautifully-stitched oxford leather, pillowed headrests, black lacquer veneer, and 380 watts of crisp Meridian audio repel the outside world.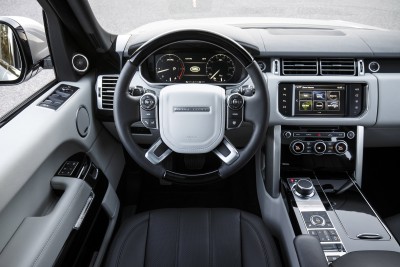 Owners command an armada of technology too. Beyond the expected navigation, USB inputs, and Bluetooth for phone and streaming audio, our wagon burst with parallel/perpendicular parking assist, Wi-Fi hotspot, and sublime mood lighting. Safety is enhanced via forward collision alert, adaptive cruise control, and lane departure warning systems.
It's easy to forget you're riding in a very full-size SUV until you view the exterior. It looks like every Range Rover before with its wide hood and angled D-pillar, but its aluminum-intensive body is streamlined with rounded corners and flush glass to improve fuel economy and squelch wind noise. Put it all over 20" wheels for that stately bulldozer style.
As smooth as the self-leveling air suspension works, you forget it can be adjusted to kneel for entry, ride in a normal height, or rise up to ford nearly 3 ft. of water. Unlike pretender SUVs, it makes nursery rhymes of snow drifts and flooding creek beds with Land Rover's Terrain Response System that configures the chassis and powertrain for General driving, Snow, Mud, or Sand. Hill Descent Control creeps the big truck down steep inclines – whether they are slick trails or just getting down your chalet driveway.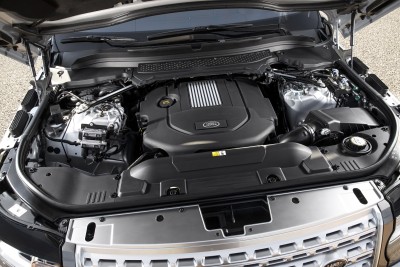 Not since the 1980s Mercedes S-Class have luxury cars flaunted their diesel sides so brilliantly. I will always enjoy a whopping supercharged V8, but my personal choice would be the diesel for its combination of deep torque-y power and crossover fuel economy. Prince Charles may be onto something. If there's a downside to this parade of aluminum and leather, it's the $106,325 sticker.
Watch Casey's video review of the Range Rover Td6 above, and follow him on YouTube and Twitter.
Storm Forward!
2016 Land Rover Range Rover Td6
Five-passenger, AWD SUV
Powertrain: 254-HP turbo V6 diesel, 8-spd auto trans.
Suspension f/r: Adjustable Ind/Ind.
Wheels f/r: 20"/20"
Brakes f/r: disc/disc
Must-have features: Comfort, MPGs
Manufacturing: Solihull, U.K.
Fuel economy: 22/29-MPG city/hwy
Base/As-tested price: $84,950/$106,325