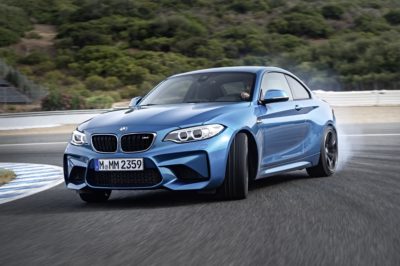 The BMW M2 is a cute little nightmare. There's something about it that makes you want to run up to hug it before running for the hills without even stopping to warn your village peeps. Back to the M2, there's both elegantly classic BMW styling and monstrous testosterone splashing from every pore. It sounds like a hot date, but is BMW's gift to boys and girls who appreciate going fast with flair.
If you want see a nightmare stripped naked, envision the M2's deep front air inlets, twin-kidney grille, quad headlamps, and faceted lower grilles filling your rearview mirror. Toss in some gym time and the M2's side profile recalls the classic 2002 coupe's – though with chiseled sculpting and planted over 19" forged wheels shod in Michelin Pilot Super Sport tires. They're for summer, not winter. Heed the warning. Around the rump, quad tailpipes and thin lip spoiler leave a clean finish. Toss in $550 to see the body in Long Beach Blue Metallic paint.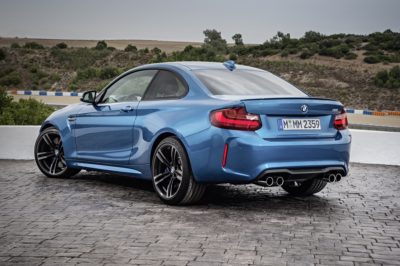 Slipping inside restores faith in BMW's mantra of building "Ultimate Driving Machines". It starts with the deep heated leather buckets with blue stitching and extendable lower cushions and continues to the elegant three-spoke steering wheel fronting BMW's traditional twin analog gauges. Suede on the doors and carbon fiber texture on the console and dash add grist. The rear seat is tiny, but the trunk is roomy. Hop in.
It's only taken a decade and a half, but I've quit cursing BMW's joywheel- and screen-based iDrive infotainment system. Twirl the console dial to click into sweet-sounding 12-speaker Harman/Kardon audio with 360w amp, Bluetooth calling/streaming audio, and USBs. A rear camera and Lane Keep Assist enhance safety – as does Park Distance Control that shows which parallel parking spaces can accommodate the vehicle. But, let's move on.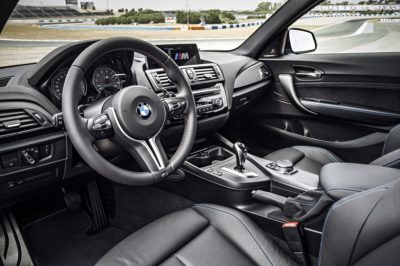 A short wheelbase paired with ample power makes for a wild ride. The roller coaster kicks you in the back with a 3.0-liter turbocharged inline-six engine delivering 365 horsepower and up to 370 lb.-ft. of torque in overboost. That's not stupid power until placed in a compact coupe like the M2 where it delivers a dam break of energy. A 7-speed double-clutch automatic transmission is available, but the six-speed rev-matching manual in our car stirs the cauldron! BMW claims the car runs 0-60 mph in 4.4 seconds and up to 155 mph. Go slower for 18/26-MPG city/hwy.
Driving pleasure is about more than stomping throttles. The M2's chassis is firm, but not brutal over washboard pavement or Interstate expansion joints. Your grandma may find it slightly unpleasant, but you won't. Nothing disturbs it. Selectable drive modes tune the chassis and powertrain for Comfort, Sport, and Sport+, adjusting from comfy to aggressive. Big M-rated disc brakes halt the fun in a hurry.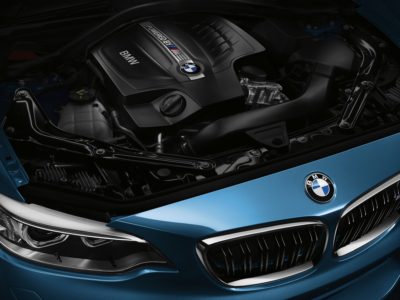 The M2 is what the M3 was before it became what it is – a lightweight coupe that's unholy fast with wide swagger too. It may be both the simplest and most fun to drive, too. Love it or fear it from $51,700.
Storm Forward!
See Casey's video review of the M2 above, and follow him on YouTube and Twitter at @AutoCasey
2016 BMW M2
Four-passenger, rwd coupe
Powertrain: 365 hp 3.0-liter Turbo-I6, 6-speed manual trans
Suspension f/r: Ind/Ind
Wheels f/r: 19"/19" alloy
Brakes f/r: disc/disc
Must-have features: Style, Stomp
Top speed: 155 mph
0-60 mph: 4.4s
Fuel economy: 18/26 mpg city/hwy
Assembly: Leipzig, Germany
Base price: $51,700