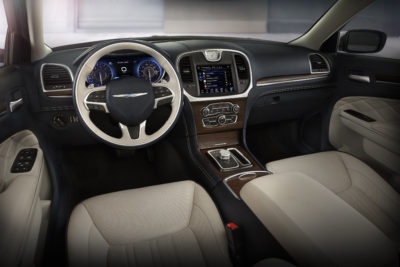 "I got [a Chrysler 300] 'cause it look just like a Phantom.… Until a Phantom pull up."  If you know comedian Katt Williams I'm sure you'll recognize his bit.
The other day, I went out for a ride with Sam Gomez here at Gaywheels.com, to take a drive in the new 2016 Chrysler 300.  We decided to head up to Red Rock Amphitheater, that terrific rock structure in the foothills of Colorado that has hosted the most renowned performers for over 100 years. It was a great place to put the 300 to the test – especially the technology.
Now if you have a new Chrysler, Dodge, Fiat, Jeep or Ram, you'll be familiar with UConnect.  It's more of an Infotainment center than your standard in-car system integrating Navigation, Controls, Entertainment, Phone and Voice Commands in one panel.
First things first: Of course, a necessary item for any good drive are some killer tunes. Some vehicle media-systems make it so darn tough to play music that it nearly takes a computer science degree – which I have but this time didn't need it for connecting Bluetooth and quickly pairing my iPhone with the UConnect system.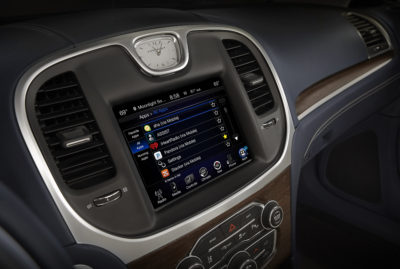 With all of the features that are available with this system to aid drivers (like Do Not Disturb, SIRI Eyes Free, Vehicle Health & Finder, Stolen Vehicle Assist), it's funny that my two favorites are sending a destination from my Smartphone to the vehicle's Navigation system and (what I love most) is the Mobile 3G WiFi Hot Spot 'cause it saved my bacon. How did it save my bacon, you might ask?  Even though we were out for a drive, I was still waiting for an important email on my work laptop, so once it arrived, I needed to quickly respond. I had hoped to find a coffee shop with open Wi-Fi and get connected, but thankfully that was not necessary because of the Mobile 3G Wi-Fi now available on 2016 FCA models.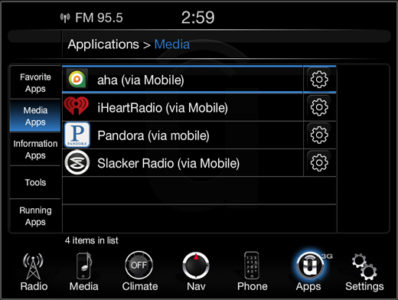 It only took a few minutes to set it up, and that included downloading and installing the mobile app UConnect.   I 'tots' liked the option of streaming Pandora, Slacker & iHeart Radio, especially by using the steering wheel audio controls. That is cool, 'cause normally you have to use the touchpanel to use those programs.  For all us gearheads, the connected performance provides a great way of getting all of your vehicle's engine performance, handling and actual exerted g-force stats all in real-time, and it can all be uploaded to the Web with Performance Pages Plus.  And for the at-times forgetful yet growing Colorado pothead community, when you can't remember where you parked your car, the Send 'n Go / Vehicle Finder portion of the UConnect App will pinpoint the location of your car on a map and even provide directions thru your smartphone.  (Please don't drive dirty – we at gaywheels.com want you to come back in one piece to learn more from our talented experts.)
Like Katt Williams, even if you got the Chrysler 300 because it looks like a Rolls Royce Phantom, the amenities and appointments in the new 300 makeup for it and certainly the UConnect system is the bomb.
If only the volume went up a little more….