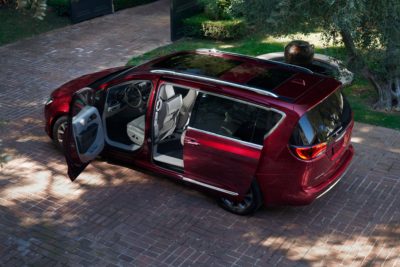 Finally, laws against LGBT parents are dropping like flies around the U.S.
In fact, anymore there may be only a handful of judges who go rogue and deny same-sex parents custody, thus suddenly, we are one big happy family – and now the panic may be setting in. If you are going from a swinging bachelor to a family of four or more – yikes! But don't let that keep you from getting a practical vehicle that can save your bacon and save your sanity.
The 2017 Chrysler Pacifica is all-new, taking its cues but not completely replacing the Chrysler Town and Country minivan, which will slowly be phased out over the next few years. I don't have children, but I come from a large Latino family, and last century my father bought a Chrysler Voyager, which became the Town and Country, to haul all his heirs and assets around the Rockies. It was a sturdy, solid vehicle that is still in use today, more than 100,000 miles later. The mileage was great for its size, the performance respectable …. but I just hated having to pull the seats out and put them back in every time our family needed to transport either humans or stuff or both.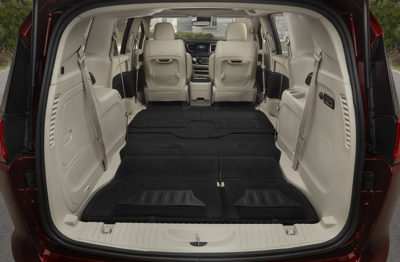 I was amazed at how the 2017 Pacifica folds up and folds down so easily. No more pulling out seats or scrunching them forward just so you can get your Costco purchases in the back door. All the seats, including the third row, fold flat and completely. Just pull a couple of tabs and the third row folds flat, with no need to remove the head rests. A couple of easy pulls of the second row and those seats too fold flat, again with no need to remove the head rests. Both rows fold flat into the body of the Pacifica, and when the seats are up, those compartments are easily-usable storage spaces for valuables or just junk. In fact, the Pacific is so smartly designed that you can hide your purchases or just store your stuff in the vehicle all day as you jaunty about, eliminating the need to empty and refill and home every time you have to load up and go somewhere. How modern gay house-husband is that?
There is also an easy-access vacuum inside the van that will reach all interior areas, and just in case you need it, a 12-foot extension is included. (Yes, girlz, the possibilities are endless.)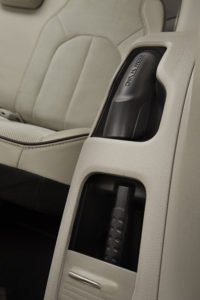 The ride was nice and clean with a little bit of glide to it, just like when you put down a fresh coat of wax cleaner on your linoleum kitchen floor. I test drove it with my Canadian straight car-reviewing buddy Andy Stonehouse, who also felt the ride was incredibly smooth and adept for a minivan. It's also a very pretty minivan …. okay, okay, you butch types, I'll call it a 'sincere and solid' look since the work pretty sounds so 'dainty'. But trust me, this pacifier is anything but dainty.
I hope in the future Chrysler will put in a shop vac with a HEPA filter instead of just a regular hoover. Spilled Cheerios are one thing; extra-fructose juice boxes when spilled really do require more than just air suction. And as LGBT families get bigger and brawnier, the 2017 Pacifica should keep pace….
At the rate homophobes are falling on their swords, full equality is well within striking distance. As Dolly Parton said when asked about same-sex marriage, why shouldn't we be allowed to 'suffer' just like the rest of America?