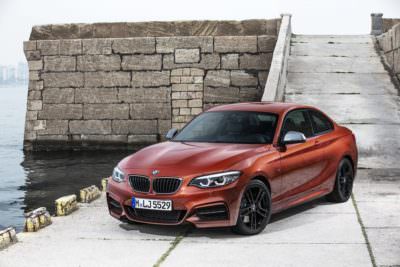 The 230i is my second-favorite BMW. What's the first, you ask? Well, that would be the i8 plug-in hybrid, which is in an entirely different league of cool altogether. I like the 230i because it is the kind of car BMW used to build before it focused as much on ultimate toy boxes as driving machines. This car is about driving and purity of the endeavor.
One of my best friends owned two generations of 3-Series coupes and is hyped up on buying today's 4-Series. He doesn't particularly like the 230i because he thinks the design isn't as elegant. I think he's bat crazy. While the 230i doesn't have quite the long flowing lines and aggressive attitude of the 4-Series coupe, it is far from ugly.
And, far from boring, as the car starts with BMW's trademark twin-kidney grille, rendered in black and flanked by quad headlamps. There's a slightly shorter and more formal roofline, but it hangs over bodysides with deep sculpting and riding on 18" wheels fronting blue "M" brake calipers. Black exhaust tips are especially fetching. I'd even choose Sunset Orange Metallic paint that shifts from orange to pearl and copper, depending on sunlight.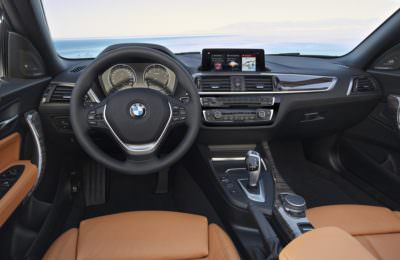 Interiors are both sporty and luxurious. BMW aficionada will appreciate the traditional large round gauges, red-stitched and heated leather-wrapped steering wheel, and hand-cradling shift knob. Heated Oyster-colored leather seats are comfy on long trips, but grip your sides when things get jiggy. Turn up the Harman Kardon audio system for accompaniment.
There are trim options including piano finish, but check our car's brushed aluminum on the dash, door pulls, and center console. I'm still no fan of BMW's iDrive joywheel-and-screen-based infotainment system, but it provides access to Bluetooth streaming audio, satellite radio, navigation, and vehicle functions relatively easily. It's far better than it used to be.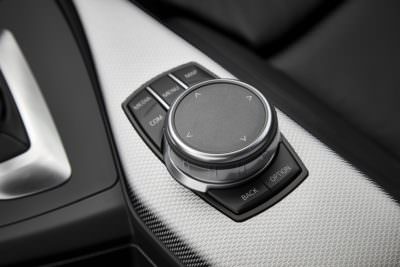 Our car had the base 248 horsepower 2.0-liter turbocharged four-cylinder engine connected to a six-speed manual transmission and rear-drive. That's adequate to run 0-60 mph in 5.3 seconds – faster than a late '80s Corvette. Or, step up to the 3.0-liter turbocharged six-cylinder engine that delivers 335 horsepower and 0-60 mph in 4.4 seconds. All-wheel-drive and automatic transmissions are available, but stay with the smaller engine and manual to see 24/35-MPG city/hwy.
An ultimate drive is not just about lively powertrains. This car has the shoes to dance. Being small and light gives the car quick reflexes without ever feeling harsh over rough city streets or long expanses of Interstate. Adjust the suspension, steering and throttle from Eco (less sensitive, enhances economy) through Comfort (my favorite mode for a compliant suspension), Sport (stiff shocks/steering, sensitive throttle) and Sport+ (disengages stability control for track days).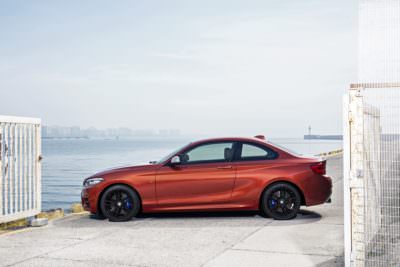 What I like most about the 230i is it reminds me of the cars on which BMW made its name – simple coupes that prioritize driving pleasure over chrome flash and fancy gadgets. Get it with the base engine, click a six-speed manual transmission, and skip AWD for one of the most pure driving experiences going. A base price of $33,150 – $44,785 as tested – puts it against cars as diverse as the Cadillac ATS, Audi A3, Mercedes CLA, and Ford Mustang.
Storm Forward!
Watch Casey's video of the BMW 230i above, then follow him on YouTube and Twitter: @AutoCasey.
2017 BMW 230i
Four-passenger, RWD Coupe
Powertrain: 248hp 2.0-liter Turbo-4, 6-speed manual transmission
Suspension f/r: Ind/Ind
Wheels f/r: 18"/18" alloy
Brakes f/r: disc/disc
Must-have features: Performance, Style
0-60 mph: 5.3s
Fuel economy: 24/35 mpg city/hwy
Assembly: Leipzig, Germany
Base/as-tested price: $33,150/44,785