It's minivan week here at Gaywheels! Yesterday, Sam gave us his take on the 2017 Chrysler Pacifica Hybrid, and today, Ruth takes the Pacifica's 2018 sibling for a spin. Stay tuned for Casey's review of the Honda Odyssey, coming tomorrow.
---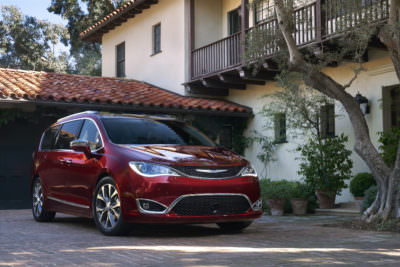 Minivans–you either love 'em or hate 'em, there is no middle ground as far as I'm concerned! Despite your feelings towards these spacecrafts on wheels, they serve a main purpose: to shuttle broods to and fro. There are perfectly rational folks, who are actually lured by a vehicle's extra stretch-out room, cargo space, sliding doors, overabundance of cup holders, multiple USB ports, cubbies, pockets and bins, "oh my!"
The minivan's former image as a soccer-mom-mobile has worn pretty thin, as many now respect the minivan as a people mover or for pure utility. The minivans of yesteryear certainly can't compare to the present day versions that have been kicked up to luxury status. Enter the 2018 Chrysler Pacifica, a definite move up the minivan line and one that can actually snatch the crown away from its rivals.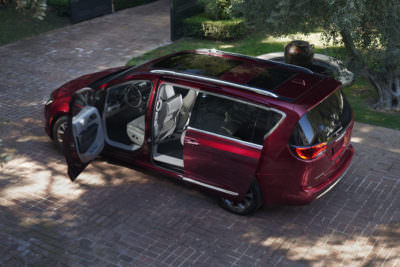 Now, a minivan fan I am not, but this Pacifica has got a bit more swag than its hatahs the Kia Sedona and Toyota Sienna. Good looks in and out, coming and going, the family-hauler is curvaceous, with chrome accents and looks that are kind of futuristic. A macho stance, hard creases, gutsy front grille and wraparound rear window gives the Pacifica real contemporary appeal. The vehicle's handsome, slab-sided-free looks and general sleek modern feel spills over to its innards.
The eight-seater's cabin is dressed to impress with soft touches here and there. It is immediately apparent that extra care was given to the Pacifica's neat fit-and-finish. The dash is a nice layout, uncluttered and easy on the eye. The minivan's touch-friendly knobs are intuitive, the standard 7-inch LCD touchscreen (there's also an available 8.4-inch) has crystal clear graphics that requires no squinting. Pairing a smartphone in the Pacifica is a snatch and operating the navigation system with 4G LTE Wi-Fi is not a frustrating chore. Apple CarPlay and Android Auto are now standard on all the Pacifica trims. The vehicle's standard voice control system for audio, phone calls and voice text reply is also pretty impressive–I actually utilized the system without yelling.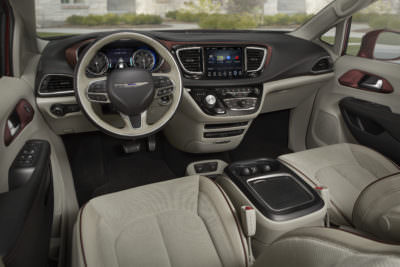 The Pacifica's all-around visibility was impressive, and I was ecstatic that there were no ridiculously oversized pillars to block lines of sight. The jazzy hauler also offers a vivid 360-degree Surround View camera that can prove to be a cosmetic saving for those who tend to bump fenders with obstructions way too often. Seating in the Pacifica is long-distance comfy from the hips to shoulders, and space is plentiful by every measure, so there are no complaints regarding head and legroom. Family-friendly comforts have certainly been attended to: an ample front center armrest, cup holders abound, a multitude of storage spaces and even a sliding drawer to fit a tablet. The amenities go on to include a fuss-free, fold-flat-to-the-floor, Stow 'n Go seating (not for the hybrid model because the battery pack is renting the underfloor wells), Easy Tilt second row seating, and available Stow 'n Vac system that extends throughout the cabin. The Pacifica also boasts a segment first: hands-free sliding doors and liftgate that opens with just a mere wave of a foot. Hoarders however, will bellyache about the hybrid Pacifica's cargo space because at 32.3 cubic feet (with the third-row seats up) it falls short in this area compared to its gas-only contenders.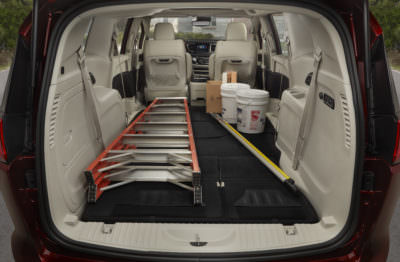 Driving the Pacifica was a smooth experience. The test vehicle was the hybrid version. The Pacifica is actually the first plug-in hybrid minivan sold in this country and manages to achieve 84 mpg equivalent (MPGe) when using both electricity and gas. As a teetotaler, the minivan achieves 33 miles in all-electric range. The Pacifica's battery can be charged in the convenience of your home in just two hours with an available 240-volt Level II charger. You can also juice it by just plugging it into a regular wall outlet with the 120-volt cable that is included with the model. Under the hood is a 3.6-liter V6 engine with dual electric motors that results in 260 hp (287 hp for the gas model), not quite enough acceleration to cause goose bumps but it is more than enough for your average minivan driver.
Now I thought since this Pacifica is a hybrid I would feel its heft. Nope! The minivan has great driving dynamics, good brake feel and is pretty light/nimble on its wheels. It was very maneuverable, no shimmies and shakes when smothering road bumps. Taking twisties, the Pacifica was not a naughty child, it was very well controlled. The cabin has a nice hush, I didn't hear whines or squeaks from the vehicle and outside noise annoyances were practically nonexistent.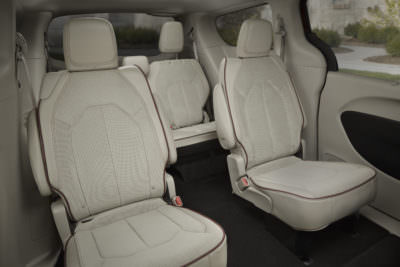 Ride handling and cup holders aplenty are important for the minivan set, but so is safety. The IIHS awarded the Pacifica with the Top Safety Pick+ honor last year because they were able to check off all of the boxes when it comes to keeping passengers safe in the ride, particularly with regards to forwarding collision. The Pacifica's available safety features like full-speed forward collision warning with active braking, parking assistance, parallel and perpendicular park assist system, adaptive cruise control with stop and go, lane departure warning with lane assist and blind-spot-monitoring are sure to make families or empty-nesters feel protected.
Contemporary styling, comfort, solid and refined performance, the 2018 Chrysler Pacifica definitely makes driving, or even being seen in a minivan, cool again. Well, I now have to come clean: once I stepped into the Pacifica, all of my previous minivan side-eyed antics came to a quick stop!
Prices start at $28,995 ($41,995 for the hybrid). Want more info? www.Chrysler.com