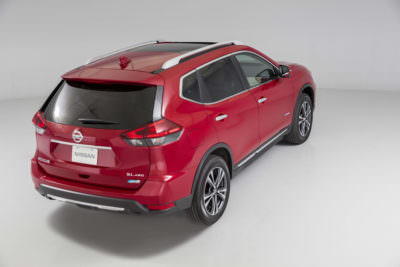 Our potential winner of this year's Gayest Car Trim Award is the Nissan Rogue Sport, which is the somewhat smaller twin of the Nissan Rogue. The Nissan Rogue all by itself is a peppy, fun smallish SUV that packs a punch with some nachos and glitterati to go with it….
And now we have a Nissan Rogue Hybrid for 2017. That's right, Nissan is clearly pro-choice, as they give you all kinds of options to enjoy yourself with just a little gas and a lot of vroom!
To be sure, it is kinda trippy when the engine goes to sleep and there you are at a stop light, but that's how hybrids save you money.  The pep is there when needed: you can give it the right foot on the gas pedal and zip up the onramp. This is still a Rogue through and true, you just have an added battery pack for more long-term power.  Mileage is a combined 33 mpg, and you get into a Rogue Hybrid for a starting price of $26,240.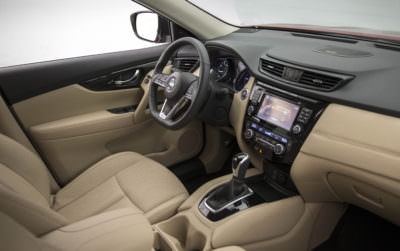 Essentially, there is no difference between the Rogue and Rogue Hybrid, other than your source of power. I know, all over the web, dissenters will tell you there are all kinds of differences, but really, if you really need or want a hybrid, know that this one won't let you down.
The differences between the base Rogue and the Sport model are only slightly more pronounced. The Rogue is supposed to be the big brother and the Rogue Sport is supposed to be the junior varsity upstart. I like to think of the more compact, spunkier Rogue Sport like that compact, spunkier sex object that is always hanging out right where you are when you are ready for action, be it on the street, the parking lot, the ATM or the troughs.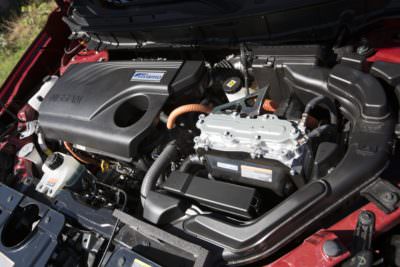 My Gaywheels colleague Casey Williams loves the Rogue Sport (as do I), seeing this particular trim as being a combination of the Rogue and the now-defunct Nissan Juke. "Take the Rogue's comfort and refinement, mix in a batch of fun spirit from the Juke, and you've got one of the most enjoyable compact crossovers rolling," says Casey of the Rogue Sport edition. Click here to read his full review.
This year's hybrid is just another flavor that you can enjoy and feel like you are getting that same thing as all those other high-calorie models.
We here at Gaywheels try to give you a sense of what's good about a car, what's not so good (though these days, most new cars are at least C+ students) and whether or not there is anything of note for those who fly their rainbow flag everywhere the go.  The Rogue in all its transmogrifications is one that proudly flies the rainbow flag, leather flag, bear flag, all your flags (except Confederate).
Clearly, the Rogue is a 'Shantay, you stay'.