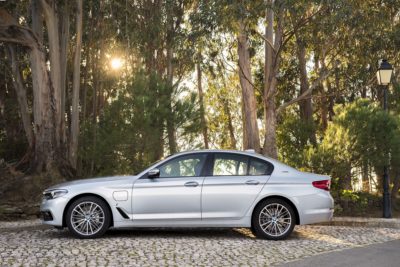 BMWs conjure many images for many types of people, but a luxurious, four-door sedan with a power plug probably isn't one of them. Nevertheless, it's a reality with the 530e, a mid-size BMW with power and posh to spare…and fuel efficiency never before experienced.
If it weren't for the "eDrive" logos on the C-pillars and an extra door on the driver-side front fender, you might never know there's anything special about the 530e. The kidney grille, quad headlamps, and Hofmeister kink in the rear windowline remain BMW hallmarks, but look closer to appreciate 18" alloy wheels, all-LED exterior lighting, satin silver blades on the sides, and more sculptured creases and curves. The 530e looks both elegant and exotic–exactly the way a high-performance Bimmer should.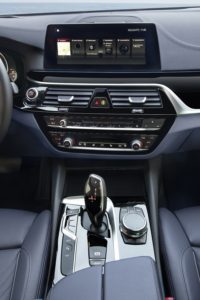 The sedan's interior is one of the most comfortable I've ever inhabited. Cushy heated leather seats, with extendable lower cushions up front, are snuggle-worthy. So is the heated steering wheel. Blissful Harman Kardon audio, navigation, and a power moonroof enhance travel. Beautiful blue ambient lighting seemingly seeps from every crevice at night. There's a lot of fake wood, but it looks really good, and the back seat's a bit tight. Then again, BMW builds the 7-Series and X5 if you need space for four to stretch their legs. Soft-close doors and a power trunklid aid access to the 530e's cabin and storage.
But driving this BMW is not just about embryonic comforts–it's also about a plethora of technology. The 530e has BMW's clear analog instruments and iDrive infotainment controls, but look closer and you'll realize the gauges are cleverly integrated flatscreens with gas and battery gauges. There's a head-up display, Bluetooth, Wi-Fi, and wireless phone charging, too. Want to change the radio's volume? Just raise your arm and rotate your index finger for the gesture recognition system to do it without ever touching a knob. Same for accepting or waving off phone calls.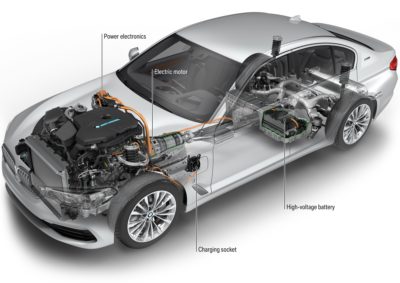 Press on a little door in the front fender and suddenly the car is sitting there with its bare plug exposed. Naughty. And nice. It only takes about 2 hours on 240v to top off the lithium-ion batteries housed beneath the rear seats. You can go about 16 miles on just electricity, but the real purpose of the batteries is for an efficient boost of power and torque while providing surprising fuel economy. Paired with a 2.0-liter turbocharged four-cylinder engine and eight-speed automatic transmission, the car enjoys a combined 240 horsepower, 310 lb.-ft. of torque, and can blip 0-60 mph in 6.0 seconds. Fuel economy is rated 72-MPGe with electricity and gas, or 29-MPG combined with just gasoline.
Some smart programming gives drivers choices. In "Auto eDrive" mode, the computer chooses between powertrains for the most efficient driving. In "Max eDrive" mode, it's full-on electric power for a quick boost. Drivers can also choose the save power mode, which conserves batteries so they're not quickly depleted during high-speed highway travel. Batteries are best for cities. Beyond battery management, drivers can also adjust the suspension, steering, and throttle response for Sport, Comfort, or efficiency.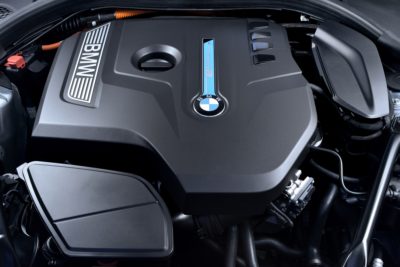 One expects a car like the BMW i8 to pack a technological punch, but the ease with which the 530e splays its prowess is disarming. Here is a luxurious, technologically advanced five-passenger sedan that's more pleasant for all of its gadgets and plugs. It's the first BMW in recent memory that uses technology to enhance the driving experience rather than annoy its drivers. Nice. A base price of $51,400–$66,450 as-tested–adds comfort.
Storm Forward!
Watch Casey's video of the 530e above and follow him on YouTube and Twitter: @AutoCasey.
2018 BMW 530e
Five-passenger, rwd Sedan
Powertrain: 240 hp – 2.0-liter T4, Li-Ion Batteries
Suspension f/r: Ind/Ind
Wheels f/r: 18"/18" alloy
Brakes f/r: Regen disc/disc
Must-have features: Luxury, Efficiency Electric range: 16 miles 0-60 mph: 6s
Fuel economy: 29 mpg comb; 72-MPGe
Assembly: Dingolfing, Germany
Base/as-tested price: $51,400/66,450