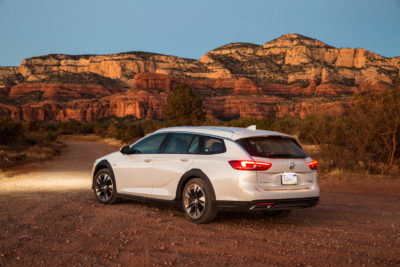 It looks like it rides low to the ground, but it actually has some decent ground clearance.  When the seats are down, you have 73 and ½ cubic feet of space. And it's nice and luxurious.
That pretty well sums up the brand-new 2018 Buick Regal TourX, the first wagon that Buick has made in a while–a long while, like 28 years. I really thought the nameplate Buick would have been in the dustbin by now, but here it is in 2018 still thriving. Even more impressive is that the Regal nameplate is still being used, sold and bought. Wisely, the Buick family felt the Regal family needed some updating and some muscle, so they came up with the unimpressive name of TourX to shepherd in the impressive trim that is a wagon that acts like an SUV but can still pull off a class act while pretending to be a family van.  How many former and current royals can do that?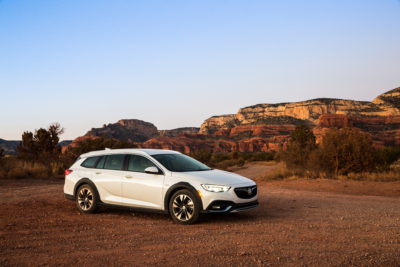 Starting at just over $29,000 you have to really want a wagon.  I say that because a wagon is not for everyone, especially in the twenty-first century, a time when the car of the century is clearly the Sport Utility Vehicle (whoever coined that phrase is hopefully a billionaire by now). The 'station' wagon of yore is a classic vehicle that your grandparents and their parents used to drive to campgrounds and to steak houses and other places where adults mingled, and children were definitely not allowed (gasp). Buick last produced a powerhouse V8 wagon last century with wood paneling (sometimes known as a woodie) and it was cheap, which meant that often the only ones who could afford it were retirees who could barely see over the dash and sometimes bumped and grinded their way into a parking space. Of course I am joking but you can see why the appeal of wagons these days has been limited.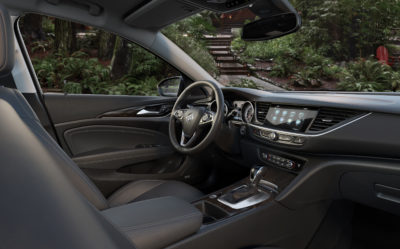 Buick took somewhat of a gamble by bringing back a 'wagon', something that made them lotsa of money in the twentieth-century.  But I think this might pay off for them.  When I saw the 2018 Buick Regal TourX, I liked it. Sleek looking, refined, elegant. Yes, it goes with any outfit.
There are three trims: Base, Preferred and Essence, ranging in price from $29,070 to $35,070. (Remember, this is the Regal TourX wagon, not the 'regular' Regal.) You get luxury for your $29K on the Base trim but that's about it, so I recommend you go up a bit more ($32,670) to the Preferred trim, if you can. Power driver's seat, leather steering wheel and a host of options are can be had on this trim.  I tested the top-tier Essence and that was indeed nice. Impressive audio, heated seats, heated steering wheel and leather, leather, leather. Even at $35K, that's not bad for the luxury segment.
If badging is important to you and you fear your 'cool' card might get damaged by driving a Buick, I understand.  But as you open that Demand for Payment you just received related to your master's degree, take another look at a Buick and reconsider what's cool and what's not.
No matter how it's sliced, debt is never cool (even though we all have it).