Acura has always been the way-in for those who wanted the luxury of the higher-end nameplates like Mercedes and BMW (without the price) and still want some practicality and affordability.
The RDX is a nice combination for families who need a reliable SUV with just a touch a class, something you can kinda take off-road but what you really need for your everyday duties as a loving parent (to whomever your charges are) and a respected citizen (in whatever universe you may currently reside).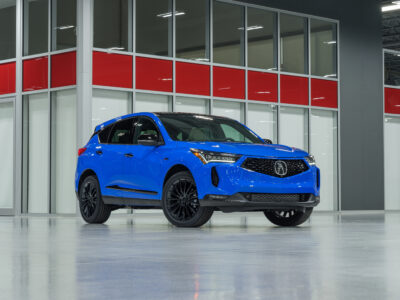 The ride is quite composed. While driving around town, there was nothing terribly exciting about it, and that's a good thing.  On the highway, it was a breeze, and at time a thrill.  To me, that's one of the best compliments I can give about a car.  Most days, there is already too much going on; I don't need sideshows to add to the daily comedy.  I like that.
More importantly for families, there is plenty of room inside. With the second room of seats up, you'll get 29.5 cubic feet of space, which is considerable for the class.  Put the seats down, and you will get 59 cubic feet. That's nice to have when you really need to go shopping for supplies.
And for all passenger of all sizes, I had no trouble getting them in and out.  That's truly a blessing, especially on a hot day.
For the class, the Base starting price of $40,600 US is decent. The interior isn't dripping with refinement, but it looks like it is and you will feel pretty classy, just enough to get upset when the juice boxes or the lattes start spilling.
There is just one trim (Base) and then you can select and number of 'packages' to add on.
The Standard features are considerable: 2.0-liter turbo, 19-inch wheels, keyless entry, 9-speaker audio, simulated leather, dual-zone automatic climate control, heated front seats, panoramic sunroof, keyless ignition, Apple CarPlay, Android Auto, WiFi hotspot….. to name a few.
Standard safety includes lane-keep assist, adaptive cruise control, forward collision mitigation and blind-spot monitoring.
The dashboard and tech control and considerable and can take some getting used to. The RDX uses a 10.2-inch display and a touchpad for everything (some buttons are available). It's still a relative breeze to operate.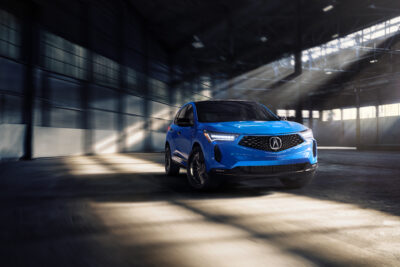 Of the many upgrade packages to get, I would recommend getting the Technology Package, which includes navigation, 12-speaker premium audio, front and rear parking sensor, real leather (not simulated) upholstery and other goodies.
Other packages, like the PMC Edition, can make the stunningly beautiful RDX even more beautiful (on the outside) by giving it exclusive paint and a gloss black treatment for the wheels, roof, grille, side mirror and exhaust tips.  And some really refined stitching inside.  (Okay, see, there's your refinement.)
Mileage is an average 23 mpg.  Bottom line, when you factor everything into your homework, the 2022 RDX is worth your consideration. This peppy compact SUV has what it takes for your family, depending on how large your family is – and where you live.
All factors to consider.  As always.