If you have more than $100,000 US lying around and really want to be on the cutting edge of luxury electric vehicles, the brand-new 2023 Mercedes Benz EQS SUV will put you right at the height of fashion, coolness and a few other nosebleed corners of style in the automotive world.
I really, really like this car.
 Last year, Mercedes introduced the all-electric EQS as a sedan – a large, commanding limo of sorts – and it was an immediate hit with both car reviewers and car buyers.  This year, Mercedes introduces the SUV-version of the EQS (the sedan version is now called EQE), and IMHO it is even more impressive to drive than the sedan from 2022.
Power-wise, the electric motor will put out 355 horsepower and 419 pound-feet of torque, which is truly impressive for an electric vehicle.
This really is one of the best luxury EVs out there.  It's a charmer – and that's an understatement.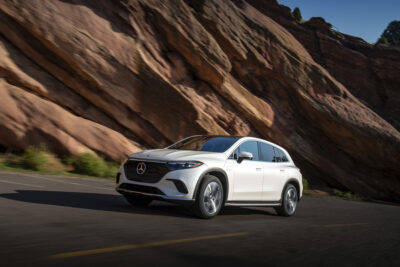 The dashboard is truly door-to-door entertainment.  Everything you need and want to see is displayed on a truly impressive touchscreen (almost 13 inches) that really can keep you entertained – so be careful. But it's all the wraparound glossy visuals that really make the EQS SUV a spaceship of the future. There are even cute brief cartoons every time you want to do something new.
There is even an EQS song called In Our Dream, which sounds like something from the 1950s, and personally, I love it – but you might not want to eat your Happy Days burger and fries inside the car while driving.
(You'll want to learn how to say 'Hey Mercedes' when you want to change music or temperature; giving dashboard / navigation commands through your fingers gets a little tricky with this spaceship.)
Every imaginable high-tech safety feature comes standard. The EQS (the 450 is shown here) almost drives itself, but more importantly, it can literally jump in and assist you should things start going wrong while on the road. My favorite safety feature is the surround-view camera system, which can show your position from many different angles, all at once. Priceless.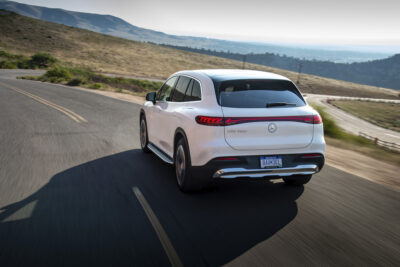 The driving range is still just 'average' at 300 miles. While that may be sufficient for a week's worth of driving, those miles can breeze by rather quickly.  Remember to charge – and charge often.
There is a third row of seats, but it can get a little tight back there. Fold the third row flat and you will have over 74 cubic inches of cargo room. Use wisely.
There is so much to like about the EQS SUV, but if you are truly in the market, be sure to check out other luxury EV SUVs, like BMW and Tesla.
Indeed, the 2023 EQS is one of the bold and the beautiful. But like anything else that feels like it came right out of a fine jewelry store, it needs to be pampered.  Constantly.
Just so you know.