In its somewhat new incarnation since the pandemic, the 2023 Toyota Venza is a smaller (sorta) version of the RAV4 and is a decent hybrid SUV that excels in the luxury category.
It's certainly a lot smaller and more agile than the old Venza from a decade ago.
The name Venza is a based on a city in northern Italy and was created to give people a sense of adventure and 'crossing over' and a bunch of other stuff to make them feel like they are getting somewhere.  Yes, let's go with that.
It's now a two-row SUV that comes as a hybrid with a very basic 2.5-liter 4-cylinder engine pared with three electric motors. On average, you'll get about 40 mpg in the city and 36 mpg on the highway, which is decent for a hybrid.
It very much is like the RAV4 and in the same class as the Subaru Outback and the Honda Passport.
I enjoyed driving this car.  It's nimble and works well in urban settings, especially when you have a full day of errands: shopping, meetings and all those tasks that are just a normal part of an active LGBTQIA++ lifestyle. To include all your volunteer work, of course.
Standard features on the base LE trims include some nice touches like a hands-free power liftgate, keyless entry, power driver's seat, heated / folding side mirrors, 18-inch alloy wheels, Apple CarPlay and Android Auto, smartphone charging, blindspot monitoring, lane-departure warning, lane-keep assist, adaptive cruise control and forward collision mitigation.
Go up the food chain and the luxury gets more luxurious – and the price goes up.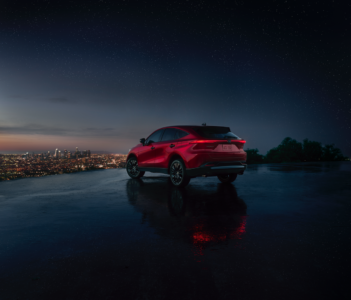 There is a lot to like about the 2023 Venza, handling and agility topping the list.
The downside with many smallish cars / SUVs that are stylish is that the swooping roofline does cutoff the rear passenger room, and the Venza is no exception.  But if the people who you are putting in the backseat are of average size (under six feet, under 200 lbs.), then you should be fine.
On the cheap end, you might be able to get into a 2023 Venza for around $33K-$34K US if you shop around the internet.  Yes, I am still not a fan of buying a car online without test-driving it first, but, hey, well, I still do many things the old-fashioned way.
I still like to watch a lot of Golden Girls reruns late at night. I still think some of the best advice dispensed today comes from three old ladies named Sophia, Dorothy, Rose and Blanche.