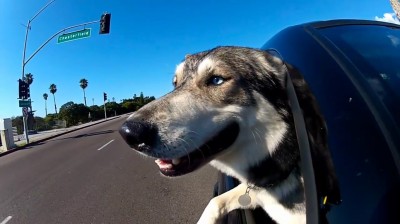 It's been a fairly quiet news week here at Gaywheels (though elsewhere, the gay news fairies have been working overtime). Still, there are a couple of stories worth mentioning before we head out to tea dance get mani-pedis a very important business lunch:
» Remember gay-friendly 23-year-old Croatian entrepreneur Mate Rimac and his Concept One electric supercar? (Or possibly, the home audio system it inspired?)  Well, we have good news and bad news.
The good news is that the Rimac Concept One is now up for sale. The bad news? Purchasing one of the 88 units slated for production will set you back a cool $980,000. Worse, while the Concept One may cost as much as a house in the Hamptons, it's too small to live in. Dangit.
» Summer is nearly here. (Actually, for those of us in the Deep South, it's been hanging around for weeks.) And you know what summer means? Road trips! And who likes road trips better than a good ol' canine companion? No one.
As proof, here's a video of dogs riding in cars. Of course, it's not the safest way for pets to travel — in fact, it's pretty dangerous — but every dog has its day. [via Towleroad]
Dogs in Cars: California from keith on Vimeo.