Zach, our friend from Croatia, has returned with a great write-up of 23-year-old automotive designer, Mate Rimac; his new car company, Rimac Automobili, based in Zagreb; and Rimac's first vehicle, the Concept One electric supercar, which debuted earlier this year at the 2011 Frankfurt Auto Show. Of course, since this is Gaywheels, Zach also asked Rimac about his feelings toward the LGBT community and LGBT workers. Rimac's answers are in keeping with those of Croatia's president, who has been vocal in his support for the LGBT community, in stark contrast to politicians from some other Eastern European nations.
* * * * *
Croatia's newest sensation is 23-year-old, Mate Rimac. Not only is he young and handsome, but he's also a very talented automotive designer and an aggressive entrepreneur. He recently launched his own car company called — appropriately enough — Rimac Automobili.
I decided to contact Rimac and ask him a few questions about his Concept One electric supercar, his plans for the future, his means of coping with public pressure, and his thoughts about the LGBT community — specifically, his thoughts about hiring gay men and lesbians to work in his new company.
This year, the 2011 Frankfurt Auto Show had, among its sea of novelties, one sensational breeze from Croatia. It was found in a pavilion especially designed for the cars of the future, with a particular emphasis given to electric vehicles. Alongside numerous cars from better-known companies, Rimac's fascinating Concept One was a standout. At 1,088 hp, it catapults it from 0 – 100 km/h in just 2.8 seconds, making it one of the fastest electric cars in the world. Journalists and industry execs couldn't get enough of it.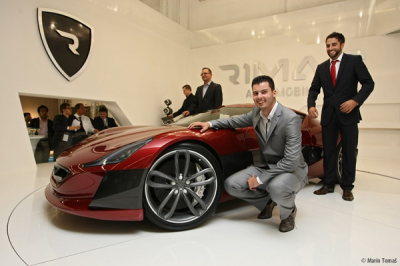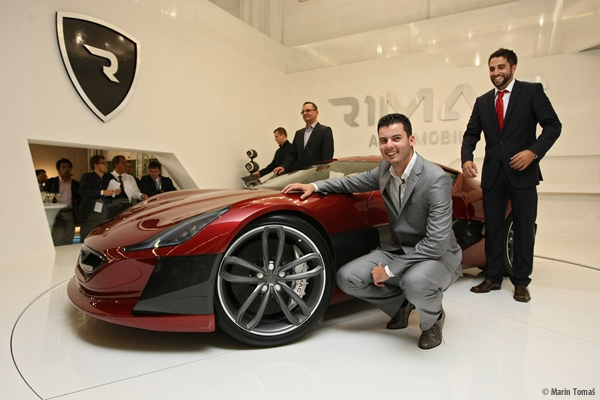 Mr. Rimac, you're very young but you have the air of someone with many years of experience. How did you manage to build such an elaborate concept vehicle and do it so well — something few other Croatian manufacturers have been able to do?
It took a lot of work, will, and effort to get to the level where we are now.  I had a vision from the start; I was determined, and I didn't want to give up on my dreams. But of course, we're just at the beginning — the hardest part is still to come! We have to get a full range of approvals for the car and run all sorts of tests so that we can begin manufacturing it in 2013.
How do you cope with so much public pressure and all of the meetings that you have to attend? Do you have a lot of assistants?
I deal with public pressure very well, but it can get hectic sometimes. For example, during the Frankfurt show, we were occupied with spokesmen and journalists from all over the world. All of the big firms came to see us and admired our technology — from Audi to BMW to Tesla. But during all of those interviews, I realized that I didn't get a chance to drink a single glass of water!  It isn't hard to attend meetings, but I will say that my private life has suffered.
Do you have any kind of free time?
To be honest, no. Since we started to work on this project in earnest, I really haven't had time for anything else. I get up at 7am, and I stay in the office until midnight (on a good day). When we were preparing for the Frankfurt show we were up 24/7.
What is your attitude towards LGBT community? Would you ever hire an openly gay person?
Absolutely, yes. I don't have any kind of prejudice towards the LGBT community, nor would I mind having an employee who is openly gay. There's no place for discrimination in my firm of any kind.
I respect the LGBT community, and I also have a few gay friends. I would even like to take this opportunity and put the word out that I am looking for an expert in mechanical engineering and electrotechnics. We are growing very quickly, and this is crucial to our success, so I welcome them — gay or straight.
At the beginning of 2011, we had a contest for Croatian Gay Car of the Year .We could include Concept One in the next one — after all it is domestic product! What do you think about that title?
Why not? I'd love to see it in that kind of contest, and I hope that visitors to Gaywheels.com will like it.