If you are in the market for a compact luxury SUV, the 2022 Lexus SUV (while still available) is truly worth a look.
Fuel economy is probably the one thing that stands out the most: 29 city, 37 highway. And for 'starter' luxury, $33,450 US is good place to start. (The base trim is called the '200'.)
Depending on how big your family is (and how big you are) the UX can get a little pinched, but most people should be fine.  It is a peppy little vehicle, often referred to as a 'crossover' in addition to being called a 'subcompact'.
It's as easy as pie to maneuver the UX, especially in city traffic.  No worries getting in and out of a tight parking spot. Not that we here at gaywheels.com ever recommend weaving in and out of traffic, but we know that busy families mean drivers often are pressed for time.  So, that said…. you'd be amazed at what the UX can do in traffic, so I am told (wink).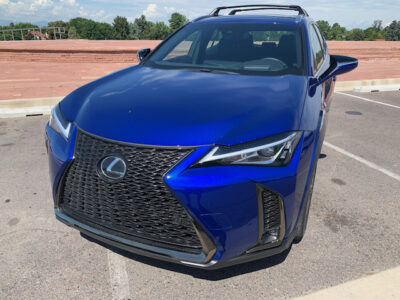 It's also, of course, a Lexus, so the interior is primo.  You know you are sitting in a high-quality, dripping-with-jewels work of art IMHO.  And this is what you have come to expect from Toyota's younger sister who managed to marry well.  Personally, I don't get the concept of 'compact luxury' but many buyers do, and the UX is a great example of it.
Be advised, there are some concerns. Cargo capacity is just 17 cubic feet in the rear. Acceleration is a bit meh! because you get a basic 2.0-liter, inline-4 that gives you 169 horses.  You kinda expect more umph! for your diamonds and jewels, I guess.
But you do get some great standard safety features: lane departure warning, lane-keep assist, adaptive cruise control, blind-spot monitoring, and forward collision mitigation.  To name a few.
You can get the UX in so many different combinations.  I tested the UX200 F-Sport combo and that was indeed a lot of fun; Car and Driver recommends that you get the UX200 F-Sport ($39,240 US) for its standard All-Wheel Drive and better fuel economy – and because the F-Sport package is a racier, classier looking trim that really makes the car stand out in a crowd.  And a crowded parking lot.
Many reviewers feel that the Lexus NX, one step up from the UX, may be a better option if you can afford it, and I would have to agree.  Starting at $38,350 US, it too is a subcompact SUV but has a bit more going for it.
Just something to think about.  That's what we do for you here at gaywheels.com.